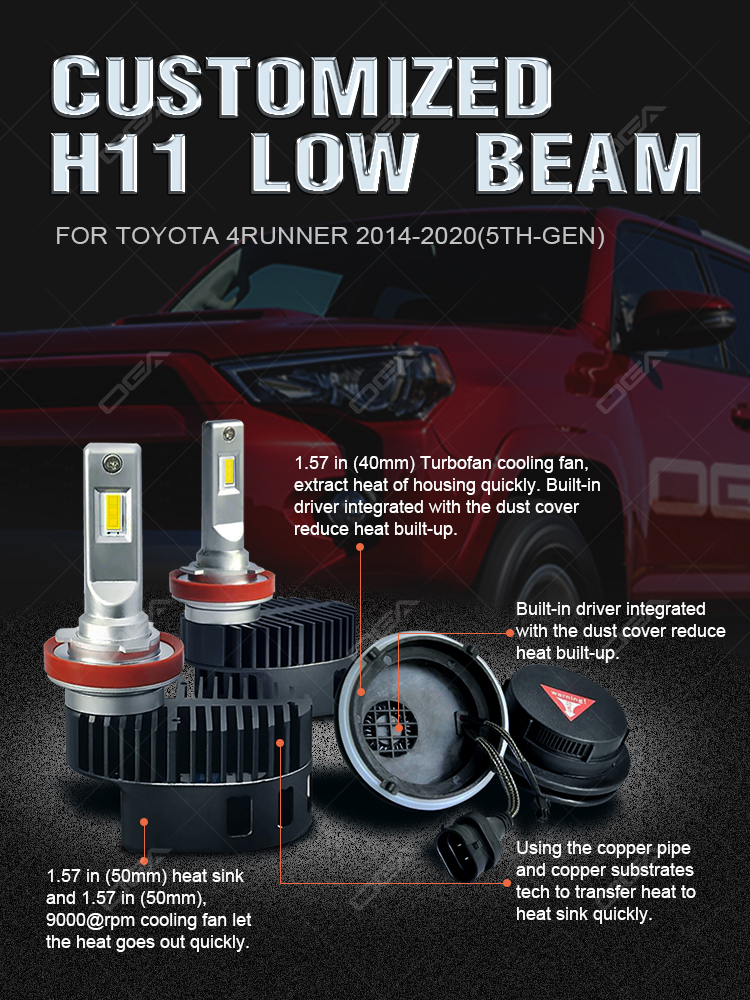 I

Product specifications
| | | | |
| --- | --- | --- | --- |
| PRODUCT NAME | OGA-T4-H11 | USAGE | Headlight |
| BULB TYPE | LED | VEHICLE FITMENT | 2014-2020 Toyota 4Runner |
| POWER | 50W | LUMENS | 5,000 Lumen |
| VOLTAGE | DC 9-16V | APPLICATION TEMPERATURE | -40℃ ~ +85℃ |
| COLOR TEMPERATURE | 6,000K | LIFESPAN | >10,000 hours |
I

Features
The Secret of Super Endurance
1. The Unique Heat Dissipation System
Using the copper pipe and copper substrates technology to transfer heat to heat sink efficiently.
1.57in (40mm) turbo cooling fan, extract heat out of the housing quickly. Built-in driver integrated with the dust cover massively reduces heat built-up. 1.57 in (40mm) heat sink and 1.57 in(40mm), [email protected] cooling fan dissipates the heat faster.
The dust cover is designed for the 2014-2020 (the 5th Generation of) Toyota 4Runner headlight housing, perfectly protect the headlight from water and dust. The headlight housing with an excellent cooling system fits perfectly with these dust covers. Effectively transfer the heat to our housing by ventilation opening on the dust cover.
Equipped with the newest cooling system, the newest cooling system technology is unique on the market, provide a more efficient high output but lower temper to compare with the stock halogen bulb, which will utmost protect your cover from foggy and aging.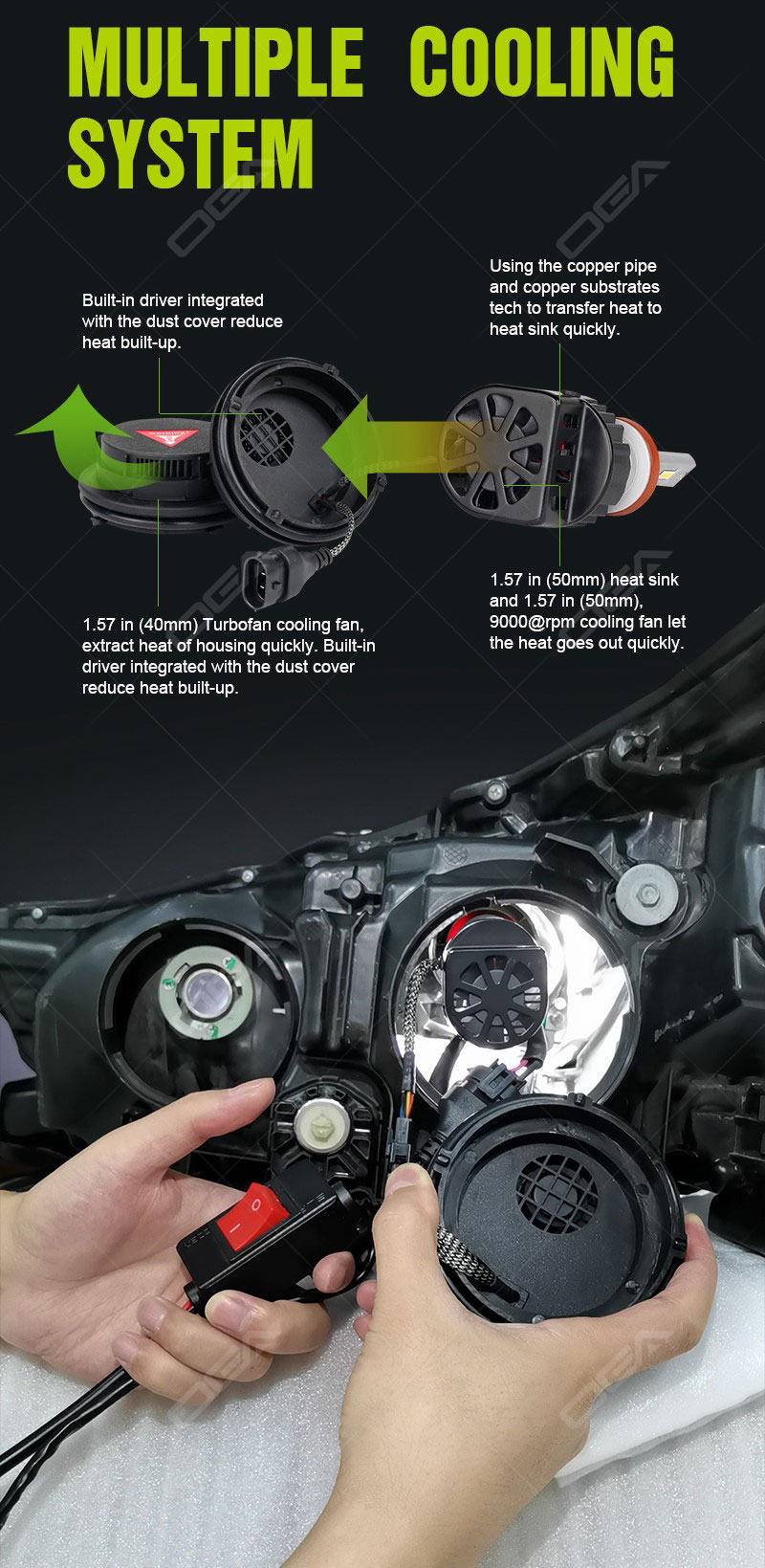 2. A Much Lower Working Temperature
Compare to the highest temperature of around 352℃ while the stock halogen light bulb at work, the highest temperature of a working LED light bulb only reaches around 78.3℃. Not to mention that the LED light bulb consume lesser energy yet offering much more lumens.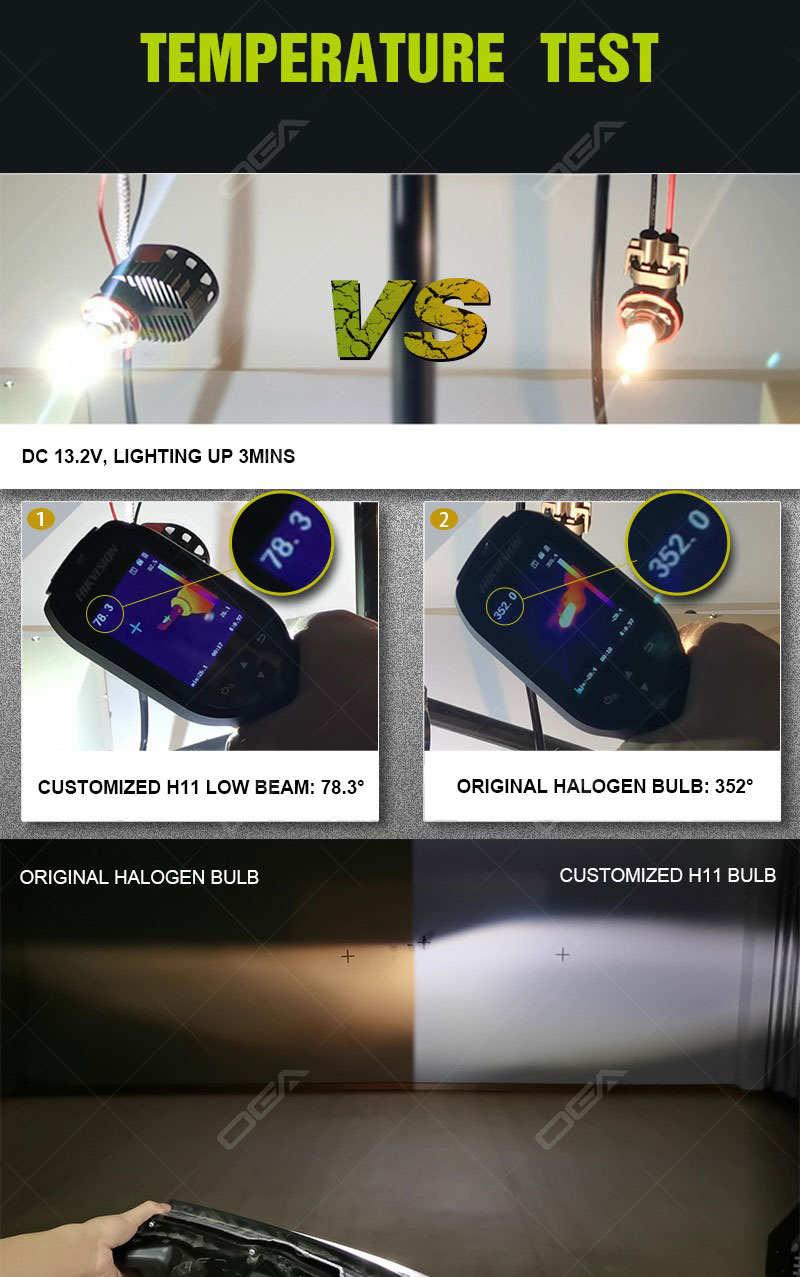 I

Product Size
WHOLESALE REQUEST
Want to be OGA LED's business partner?
Please fill out the wholesale request form below, and we'll contact you with information shortly.