First, what is E-Mark?
E-Mark is the certification of the Economic Commission for Europe (referred to as ECE, United Nations agency). According to the European Economic Commission regulations and the provisions of EU directives, in order to enter the European market, vehicles and various vehicle components and systems must be certified to meet the basic requirements of traffic safety and environmental protection.
E-Mark is issued by the transport department, indicating that the product complies with ECE regulations. Vehicles and related products require E-Mark certification to be legally sold in Europe.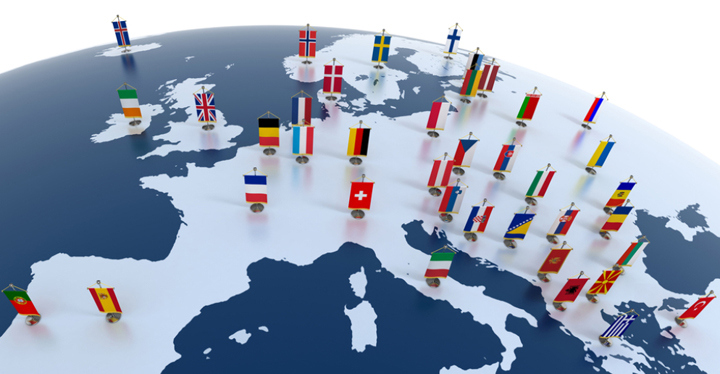 Products certified by E-Mark will be recognized by all EU member states and some other countries under UNECE Regulation 10. Each EU member state has its own number of E-Mark certificates:
E1 – Germany
E2 – France
E3 – Italy
E4 – Netherlands
E5 – Sweden
E6 – Belgium
E7 – Hungary
E8 – Czech Republic
E9 – Spain
E10 – Yugoslavia
E11 – United Kingdom
E12 – Austria
E13 – Luxembourg
E14 – Switzerland
E16 – Norway
E17 – Finland
E18 – Denmark
E19 – Romania
E20 – Poland
E21 – Portugal
E22 – Russian Federation
E23 – Greece
E24 – Ireland
E25 – Croatia
E26 – Slovenia
E27 – Slovakia
E28 – Belarus
E29 – Estonia
E31 – Bosnia and Herzegovina
E32 – Latvia
E34 – Bulgaria
E37 – Turkey
E40 – Macedonia
E42 – European Community
E43 – Japan
E45 – Australia
E46 – Ukraine
E47 – South Africa
The E-Mark logo is a circular frame. If a product passes ECE testing in the United Kingdom, it will receive an "E11" marking with a number next to it.

Which ECE regulations are related to vehicle lights?
Before 2019, the ECE regulations had many different subdivision regulations for different automotive lamps and reflectors. For example, in the signal lamps category, there are license plate lamps (R4) Direction indicator lamps (R6), reverse lamps (R23), parking lamps (R77), etc. It's undeniable that there are certain advantages in subdividing regulations, but this complicates the application process for the E-mark certification. A product equipped with multiple functions has to apply for multiple tests & certificates under different regulations. Take OGA 46 series 20-inch driving + fog + strobe light all-in-one light bar as an example, 3 functions mean that it requires a maximum of 3 certificates and 3 corresponding markings on the item.
The good news is that UNECE has decided to formally incorporate ECE R148, R149, and R150 into the UN 1958 agreement from 15 November 2019. The three new standards are mainly to increase the clarity, consolidate and streamline the complexity of requirements for vehicle lighting, light signal devices, and reflective devices, improve clarity and reduce the number of regulatory standards but do not reduce the detailed technical requirements in the regulations. Below is a comparison of new regulations vs previous ones:
Category

New Regulations

Previous Regulations

Applicable Product

Light Signalling Devices

R148

R4

Rear registration plate lamps

R6

Direction indicator lamps

R7

Front and rear position lamps, stop lamps and end-outline marker lamps

R23

Reverse lamps

R38

Rear fog lamps

R50

Position, stop, direction indicator lamps for motorcycles

R77

Parking lamps

R87

Daytime running lamps (DRL)

R91

Side marker lamps

Road Illumination Devices

R149

R19

Front fog lamps

R98

Headlamps with gas-discharge light sources

R112

Headlamps emitting an asymmetrical passing-beam or a driving-beam or both and equipped with filament lamps and/or light-emitting diode (LED) modules

R113

Headlamps emitting a symmetrical passing beam or a driving beam or both and equipped with filament, gas-discharge light sources or LED modules

R119

Cornering lamps

R123

Adaptive front-lighting systems

Retro-Reflective Devices

R150

R3

Retro-reflecting devices

R27

Advance-warning triangles

R69

Rear-marking plates for slow moving vehicles

R70

Rear marking plates for heavy and long vehicles

R104

Retro-reflective markings for vehicles of category m, n and o
So under which regulation are our driving beam or fog beam LED light bars and pod lights? From the above table, we can clearly see that it is R149 (previous R19 & R112).
You may be wondering one thing: many LED lights in the market claimed themselves as R112 certified and legal to be used, but since R149 has come out, is R112 still valid?
Before 14 November 2021, the ECE R112 certificate was recognized as valid and met the installation requirements. For more details, please refer to ECE R48.06 supplement 12, posted on 15 October 2019. However, now ECE R149 has replaced R112 and become in force.
(Besides ECE R149, R10 is also an important regulation for LED products. Follow OGA, we will talk about it in the future!)
Are OGA lights ECE R149 certified?
Customers and friends who are familiar with the OGA team know very well that our main market is North America. To meet the market's demand, our 3012 pod lights and 46 series light bars have been applied for SAE/DOT J581 & J583 certificates. They've passed strict quality tests and become OGA hot-sale street legal lighting combination.
We are in the age of globalization, the global trade among different countries has never been so common and fast. Let's raise a question: if a manufacturer doesn't export to Europe, does it mean that their current customers don't have or will not have business in any EU member state either? Nobody is sure about that.
After finishing our SAE-approved lighting projects, we start to focus on E-Mark certification, ensuring our customers and us were more competitive and more adaptive to the market trends. Thanks to the excellent quality of our solid-built 46 series 20-inch driving light bar, we successfully acquired ECE R149 certification in Ireland in December 2021, allowing our customers legal to sell it in Europe with confidence.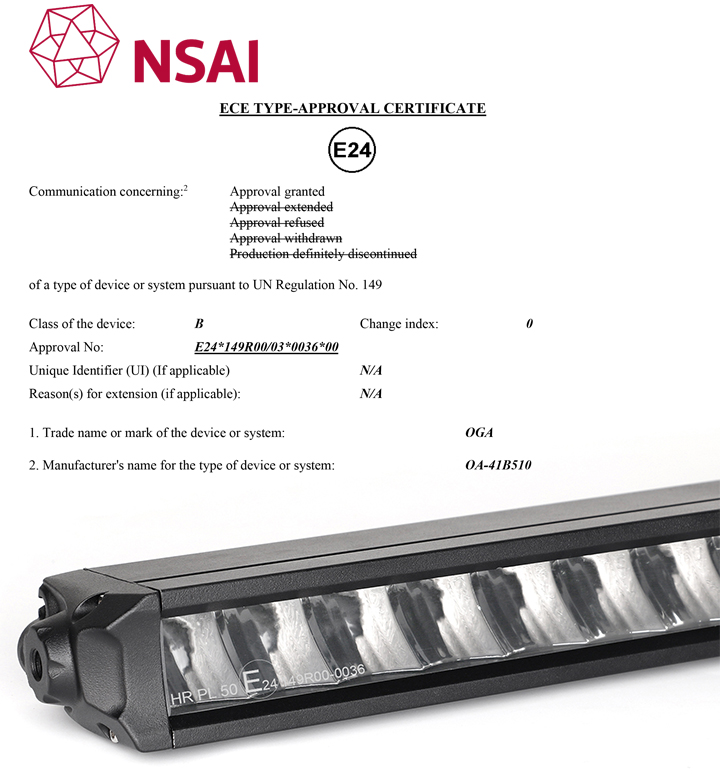 There is no doubt that in the future we will continue to launch new LED products and pass the ECE tests. If you are interested in selling OGA LED lights in Europe, please let us know, we will try our best to meet your needs!