Welcome to our UTV lighting guide. So auxiliary lighting for UTVs and just about any off-road machines becoming very very popular now. Do you need a light bar to get around at night, probably not. But the truth is, a light bar is going to allow you to see farther with more definition at nighttime than you ever really thought possible. So if you can see better, you can have more fun and you can also be safer.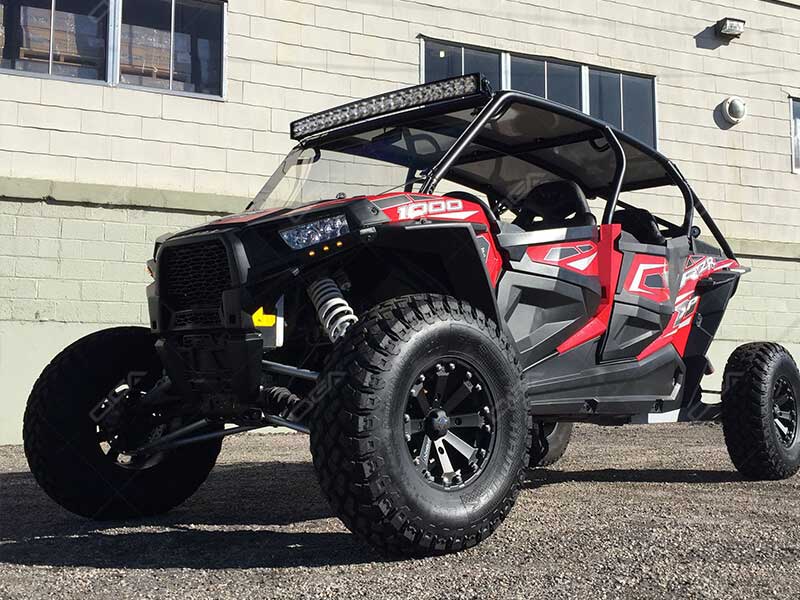 An LED stands for light emitting diode, so in a light bar there are no light bulbs, it's an electrical circuit and when a current passes through it, the diodes on the circuit give off the light. And LED lights over the last few years have come a long long way, when compared to a traditional incandescent light bulb, they give off a lot more light and use a lot less power, so you're getting the best of both worlds.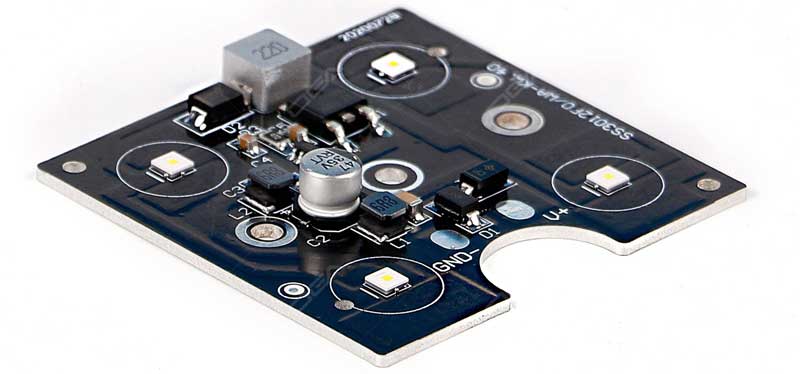 Here at OGA LED, we carry a lot of different light bars in a lot of different sizes, we have from 6 inches up to your big 50-inch light bars. The width that you get depends on a couple of things. It's going to depend on how much lighting you're wanting along with a good combination of where you want to mount it, and also how much available power you have when you're getting the light bar. You got to keep in mind that if you're running other accessories like a big stereo, a winch or any sort of lighted whip, you need to make sure that you're going to have enough battery power left over to run one of these light bars.
There are a lot of things that come into play when it comes to having a good quality light bar. The first is going to be the LED chips. In the world of LED lights, two main companies make most of the high-end LED chips, Cree and Osram.


So every light bar requires a certain amount of watts to power it up and get that light that you're looking for. Lumen is a measure of the total quantity of visible light emitted by a light source. We're going to throw a lot of numbers out today as far as LUMENS go. But yes, LUMENS are important but they don't tell the whole story. So some of the inexpensive light bar companies throw out some huge lumen numbers, and that might be the overall rating for what it's capable of. But in reality, it's going to come down to the quality of the light components that go into these light bars, and how much usable light you're going to get. And that's why reflector is going to be so important, and that's where we talk about next, the reflector design.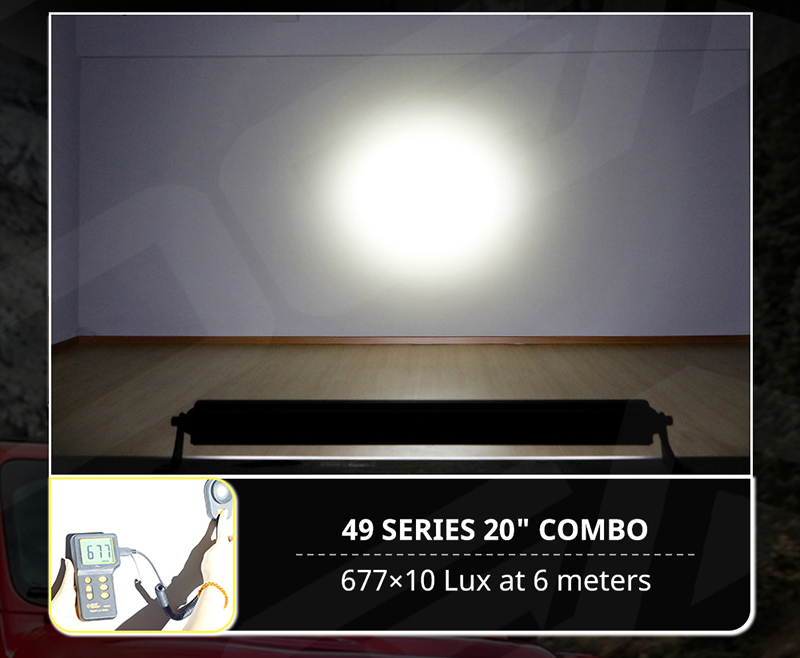 So the reflector design's going to dictate how well your light is going to project either down the trail or out to your sides for your peripheral vision. Like I said before, you can have all the LUMENS in the world coming from a light bar, but without a good reflector design that light's not going to project well, it is not going to be usable light. We have found that the most practical combination for all-around driving is going to be light bars that have a combo of flood and spot lighting. Many OGA light bars have these combinations. An example is our 49 series high power dual row combo beam 20-inch straight version LED light bar, so you're going to have the spot lighting in the front, which is going to be the long and narrow light that's going to allow you to see far down the trail. And you're also going to have these flood reflectors in the middle and the very edge of both sides, this is going to give you that peripheral lighting. So when you have a combination of those two reflectors inside a light bar, the field of vision provided by these light bars is going to be awesome.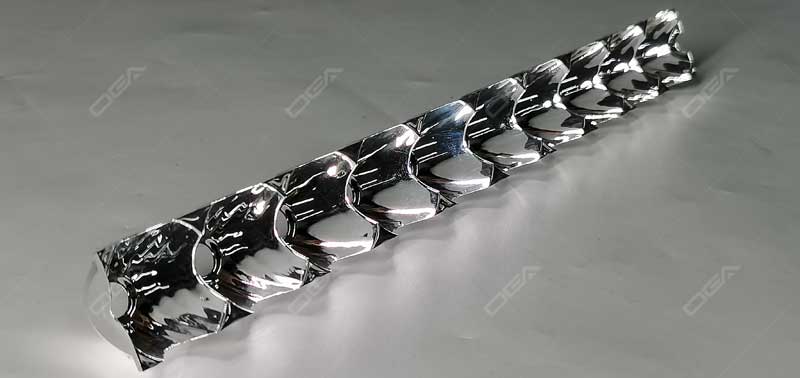 The last two things we're going to cover are the IP rating and the housing. The IP rating tells you how well the light bar keeps out dust and water. All OGA light bars are rated at IP67. The first number 6 means protected against dust, the second number 7 means the light can stay submerged under one meter for 30 minutes. Marine light bars can achieve IP69, meaning protection against penetration of high pressure, high temperature water and dust.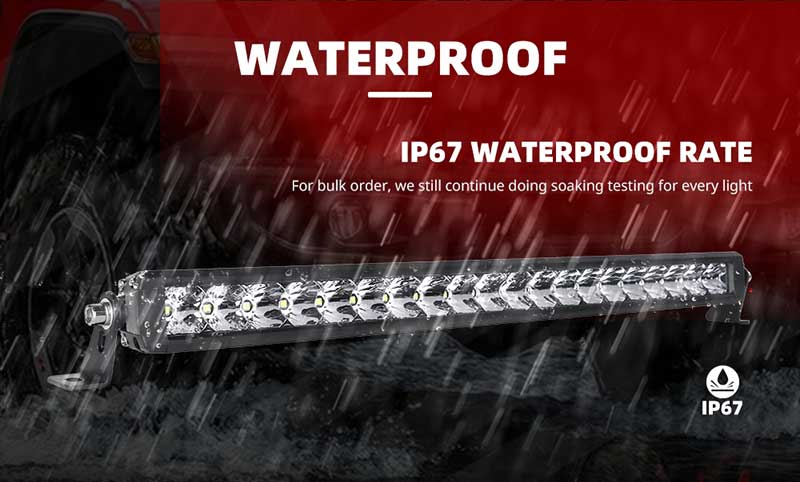 For the housing, one thing you got to remember is that these light bars give off a lot of heat, they produce a lot of light, and in turn, more heat is generated. That's why you're going to see these cooling fins on the back of these light bars. These are designed to help dissipate as much heat as possible which can prolong the life of the light bar as well.
So now that you know how light bars work and how they're made. What we're going to do is to take our favorite light bars that we have here at OGA LED, and we're going to start with the value, the bang for your money, and we're going to work our way up to more high end light bars. We're going to break down each one, and we're going to give you all the information that you need so that you can buy with confidence, and let's get to it.

So the light bar that we want to introduce is our 48 and 49 series off-road LED light bar. Apart from the fact that we pride ourselves on making these high-quality LED lights and accessories, we also do it at a price that doesn't break the bank, and that's exactly what you're getting with these LED light bars. So the only difference between our 48 and 49 series LED light bars are the fact that the 48 series LED light bars being single row and the 49 series ones being dual rows. They both come in two versions, the straight version and the curved version. The straight version ones come in five sizes which are 12 inches, 20 inches, 30 inches 40 inches and 50 inches; and the curved version ones come in four sizes, 20 inches, 30 inches, 40 inches and 50 inches. The beam pattern of the straight version is combo beam; and the beam pattern you get from the curved version is spot lighting. We just want to point out that all the numbers we're going to give you are going to be for the straight version of 30 inches dual row LED light bars since they're the perfect size for UTVs, for the rest of the specifications please refer to the below image.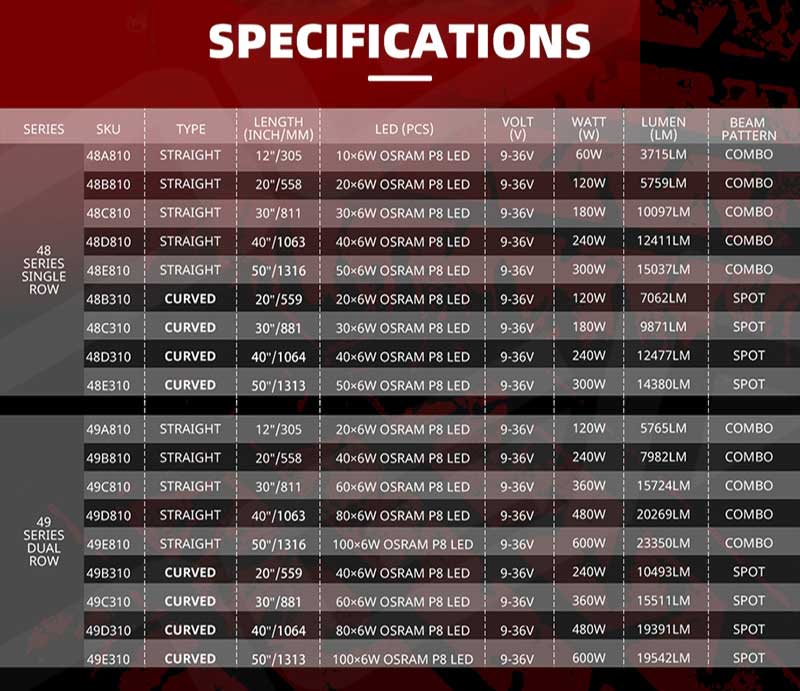 So let's talk about construction, they're using OSRAM P8 LED chips, with this light bar it's going to be made from aluminum. And the nice thing is you get a double-sided hardened polycarbonate lens and they have a combination of spot and flood beam. And they have an IP rating of 67. They are going to come included with the plug-and-play wire harness kit. And what's nice though is that we offer two mounting options, you can either use the side mounts or the sliding button mounts. As far as the power and the LUMENS go for this light bar, again we're talking about the straight version of the 30 inches dual row one, it's a 360W light bar, and you're getting a rating of 15,724 LUMENS, so they're very bright. What's so great about this light bar is we brought you a high quality light bar using great materials, and using those quality Osram LED chips and done at a price that is very very hard to beat. So make sure you go to check out our 48 and 49 series LED light bar.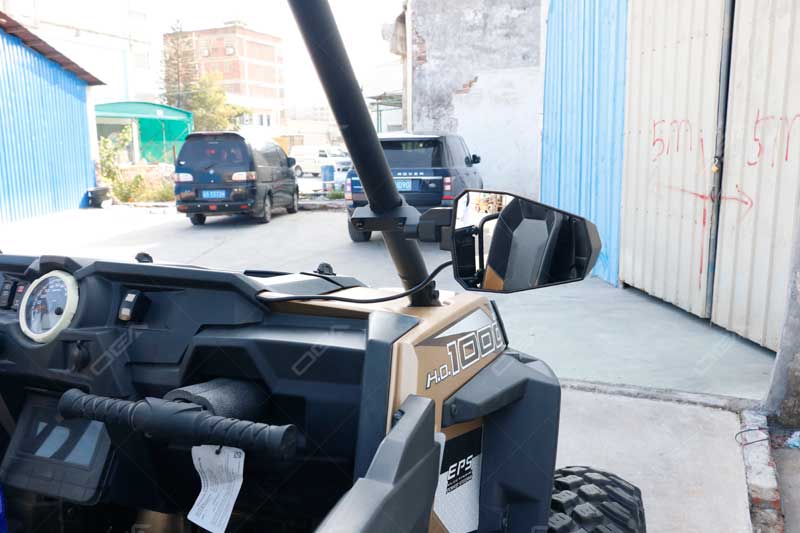 In many instances, UTVs won't come with any mirrors by default, it's up to you to add crystal clear mirrors that fit and give you a full range view of everything going around you. And if you're ever going to find yourself going off-road during nighttime, one of the cool accessories that you see around nowadays is lighted side mirrors, they are becoming a popular accessory to throw on UTV, and that's why we want to introduce our R8 side mirrors with lights. These side by side mirrors are an absolute must-have for any off-road enthusiast out there. Our R8 side view mirrors with lights are adopted advanced projector optics which provide a more precise beam, four lighting modes optional: white spot, amber spot, white plus amber spot and amber strobe modes that perfect the driving experience. You're getting [email protected] from the white spot beam, [email protected] from the white plus amber spot beam, and [email protected]2M from the amber spot beam. The cast aluminum housing also has an IP67 water and dust resistant rating. And one of the features we pride the most about this model is the adaptive 360º bracket rotation, which practically means that they will accommodate any angle roll cage pillar and allow any angle for perfect lighting ahead and a perfect view of the trail behind. Although they are designed for UTV application, R8 series side view mirrors with lights can also fit on any off-road vehicle with 1.6 inches, 1.75 inches, 1.875 inches or 2 inches roll bars. And the bracket and mirror are connected before ex-factory, so they're extremely easy to install. So make sure you go check out our 48, 49 series LED light bar and our R8 series side view mirrors with lights.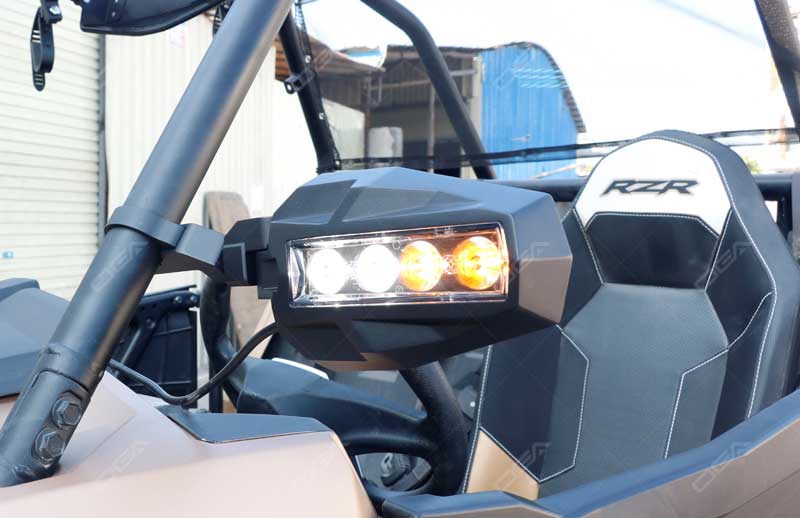 Now that we've thoroughly described some of the standout features of our product so that you can see really what makes them unique. Alright, so thanks for checking out our UTV lighting guide. Remember, LED lights make night riding a whole new level of fun. Now go to our website at ogaled.com where you can read all the details. Thank you again for reading, and let's meet on the trail.