Price is almost always the first consideration when we make a purchase. An item may need to fall within a certain budget and sometimes we'd just rather purchase something inexpensive, and occasionally it turns out to be fine, it holds up for a longer time and performs the way it is advertised. But there are times when it makes sense to go for quality over price, there's an old phrase that cheap things are not good, good things are not cheap, like auxiliary lighting for your vehicle. Focusing solely on price and choosing the inexpensive item can actually come at a cost. Because consistently choosing the inexpensive option not only costs you more in the long run, it actually sacrifices the quality of a product or service, therefore, degrading its value over time.
Choosing quality over price is almost always the sustainable choice because it eliminates waste, improves efficiency, and supports businesses that prioritize value. Let us explain, investing in a good quality product means it will need to be replaced less frequently, therefore it actually ends up saving you money, and it also encourages corporate social responsibility practices. And so the question of, should I buy the cheap lights and save some money or should I save up some money to buy the more expensive quality auxiliary lighting?
In the case of auxiliary lighting, first, we're going to have to find out what exactly makes the difference between cheap off-road lights and high-quality ones. To do that, let's break it down into three different categories: quality, performance and reliability.
For quality, we should look at two different things. How good is the quality of the lights themselves and their components? How good is the manufacturing process? Are there strict and meticulous standards that have been followed through from the IQC incoming inspection, production control to finished product inspection?

Performance may be a bit easier to measure the difference. As in most cases, we can visually see the difference between how well or how bad is the light being projected.
And reliability, is there aging testing, waterproof testing, or finished product inspection before the lights leave the factory? Are these lights going to last for years to come? And if something does fail, how is the warranty? Is there aging testing, waterproof testing or finished product inspection before the lights leave the factory.
And those are the types of things to consider when you're trying to choose between cheap lights and high-quality ones, and what your extra money is actually getting you.
We think it's easier to acknowledge why cheap lights are cheap or inexpensive. In most cases, they're built using a high volume, mediocre manufacturing, quality-controlled process, subpar electrical components and housing materials. And it's a speed versus quality to equal volume type of production, instead of taking the extra time and investing the extra capital in resources to create excellence from the initial concept all the way through to the packaging.
With OGA LED, there are no off-the-shelf guts inside of some fancy housing. We use a highly sophisticated CAD program called Creo Parametric to design and make sure the lights running at the most optimized state. Creo Parametric is used to design, adjust and assemble all LED light components from a rough draft state before actually sending them to our factory to model them out.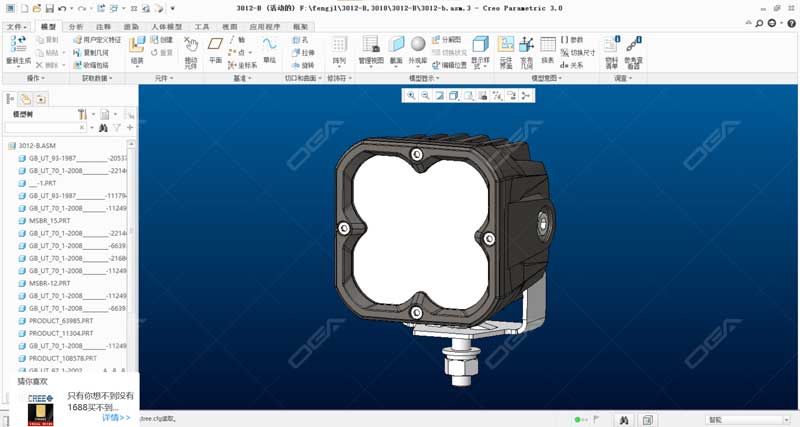 The housing of our lights is being made from high-quality die-cast aluminum materials and our company stands behind our products. It starts to add up pretty fast when you start looking at why these lights are so worth the extra money. Our line of LED off-road lighting delivers unparalleled performance through advanced optics and optimal fitment with a compact footprint and application-specific brackets. But let's dive a little deeper into the unparalleled performance through advanced optics to compare what we mention above: quality, performance, and reliability.
Pre off-road light model 3D printed on grey resin ABS
The reflector we used is TIR, which is short for total internal reflection. Light reflection performance provide by the optics design is just as important as the actual performance of the LED chips that are being used in getting the most optimized light output possible. You can have the most perfect, highest quality, highest output led chip in the world. But if the optics is bad, it's gonna look like you have one of the cheap off-road lights purchased from the clearance aisle at one of the big box stores. It takes well-designed optics and high-performing LED chips to maximize the lights and fullest capabilities. The TIR alone adds a bit of a financial chunk onto the price of our lights and for the quality, performance and reliability gains from using the TIR, it's definitely worth the money.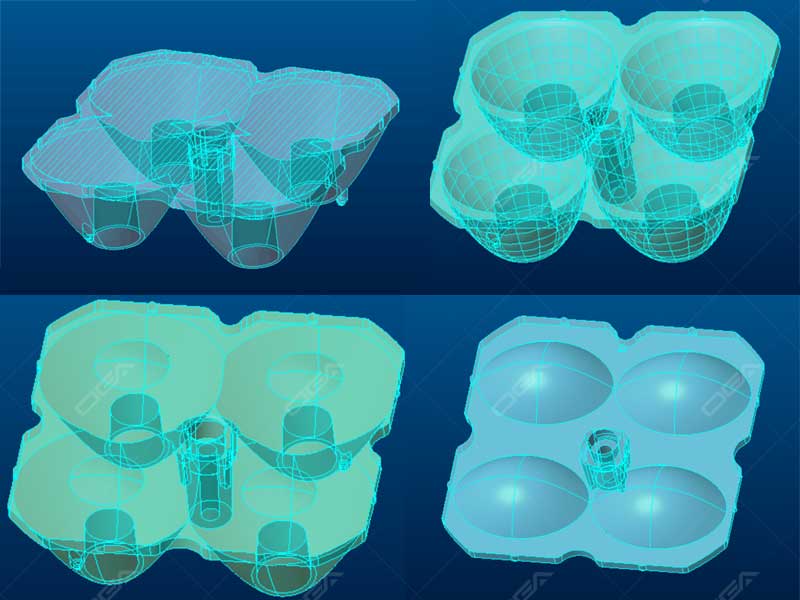 To get the absolute best light emitting diode available to match the performance of the TIR lens, OGA LED sources these from world-class producers of premium light emitting diodes, Osram, whose quality is recognized as the world's best-known level.
So from the quality of the design to the manufacturing process and the components used, to the performance of the reflector and LED chips, and the reliability you get from engineering, it's all about why choosing quality over price when purchasing auxiliary lighting for your vehicle. And these OGA 3012 pod lights with advanced TIR optics have four beam patterns as well, flood, spot, driving and fog, click here to learn more about these high-quality off-road LED Lights. We appreciate all of you for reading and all of your support, stay safe and we'll see you out on the trails.