Be yourself, someone else is taken!
There is a saying you may hear of it, which goes "Be yourself, everyone else is already taken", which is our faith when we research and develop a new product. There are a lot of pod lights in the markets, whether cheap or expensive, whether normal or similar, and our OGA exclusive 3012 series 3" pod light is the one and only. We make every effort to make our 3012 series pod lights stand out, we want it popular and be well known for its excellent quality, no complaints, no arguments, saving energy and time. With more and more new customers from various country markets flocking to ask us by email or other various platforms accompanying with the picture of 3012 series, "is that your product, I am interested in it!", we feel a great sense of achievement!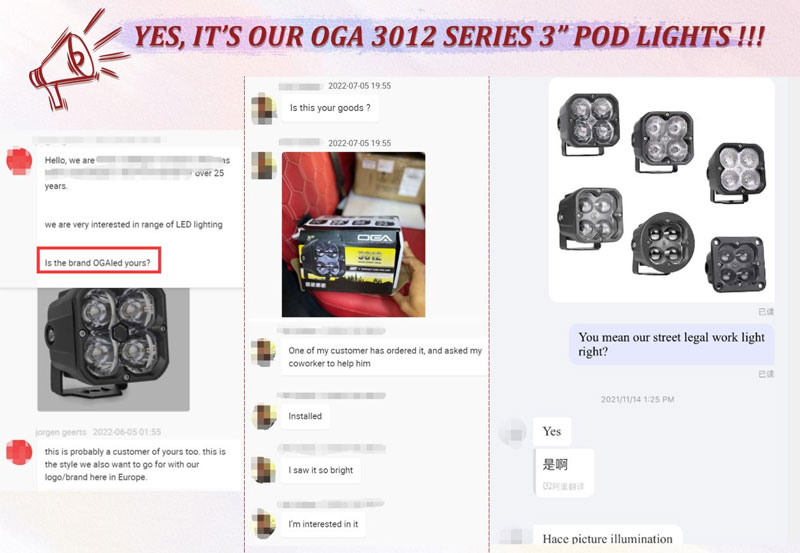 The more recognition we receive, the higher the recognition of our products in the market. And the recognition based on great reputation, is the "only" what we pursue for initially. When you see our 3012 series pod light, you don't think it's baja's, rigid's, or lastfit's, diode dynamics's or any other brands, and you just speak out, it's "OGA", a Chinese manufacturer who dedicates in advanced and premium automotive led light for over a decade.
You may think I am just a wind bag who is indulge in empty talk. But how can I let you think that about me? In the following let's see what are the recognition of 3012 series 3" pod light from? Figures and comparison will support what you should believe!
·SAE approved.
OGA 3012 series 3" pod lights are mounted and well fit for Jeep, Nissan, Rivian, Toyota, GMC, Chevrolet and a diversity of other off road vehicles, and they are perfectly putting in versatile positions in the vehicles, such as Bumper, Roof, and Engineer hood, wherever you want to use it both for brightness or decorations. And as you know, led auxiliary lights never just for off-road vehicles or truck decorations, they are used for providing much brighter illumination emitting that can help you see clearly off road or on road even at night. No one will refuse the pretty 3" pod light just bright off road, and we get Driving & Fog beam SAE J581 and SAE J583 certificated then you can freely drive your luxury car with our 3" pod light on the street road legally. You may know few pod lights in the market are SAE J581 compliant for use as a street-legal auxiliary high beam (driving beam), but wee did it and control the lights at the legally allowed brightness!
Check the below picture, you will find SAE standards have a set of testing points with maximum and minimum values. Our driving and fog beam are truly certified legal instead claimed compliant. You can install the 3012 3" pod light in the front as driving light and fog lights are legal, or install flood beam pod light in the rear for super bright back up lights. Plus, our fog light 3" pod light can perfectly replace original fog light, how do you feel like?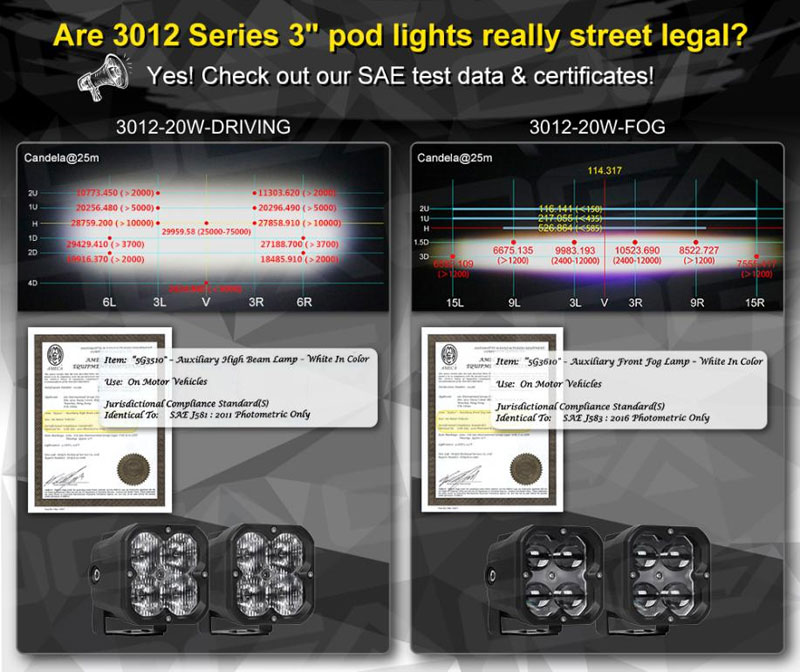 · Best high-intensity Osram chips and advanced TIR projector optics own the best lighting performance.
Inspired by your own needs and designed so as to meet your requirements, we know quality and strong lighting beam are always your priority. We learn a lot from the excellent pod lights and study every comment of the customers who ordered the pod lights from different manufactures, to extract the important elements that they are paying attention to. And finally we found the light beam pattern can't be pleasant without the best optics parts. Unlike other pod light 3" pod light using normal reflector optics, our 3012 series 3" pod lights are adopted super high-intensity 5W Osram KW automotive grade LED chips for powerful light output, then The advanced TIR projector optics are also supporting the uniform and precise light beam pattern of our 3" pod lights. The material of TIR optics we use is highest grade optical PC, because it has longer lasting clarity than PMMA. So you don't need to worry about that the optics will turn yellowish after long-time use outdoor.
As you can see from the picture, the 3012 series 3" pod light come with different TIR optics, which can change the light into 4 different beam patterns. You can easily use them for improved visibility and safety under different driving conditions. The high quality light output comes from four 5-watt Osram KW LEDs in each light. Giving you a total light output of 2000 raw lumens per light. These guys are super strong and long lasting.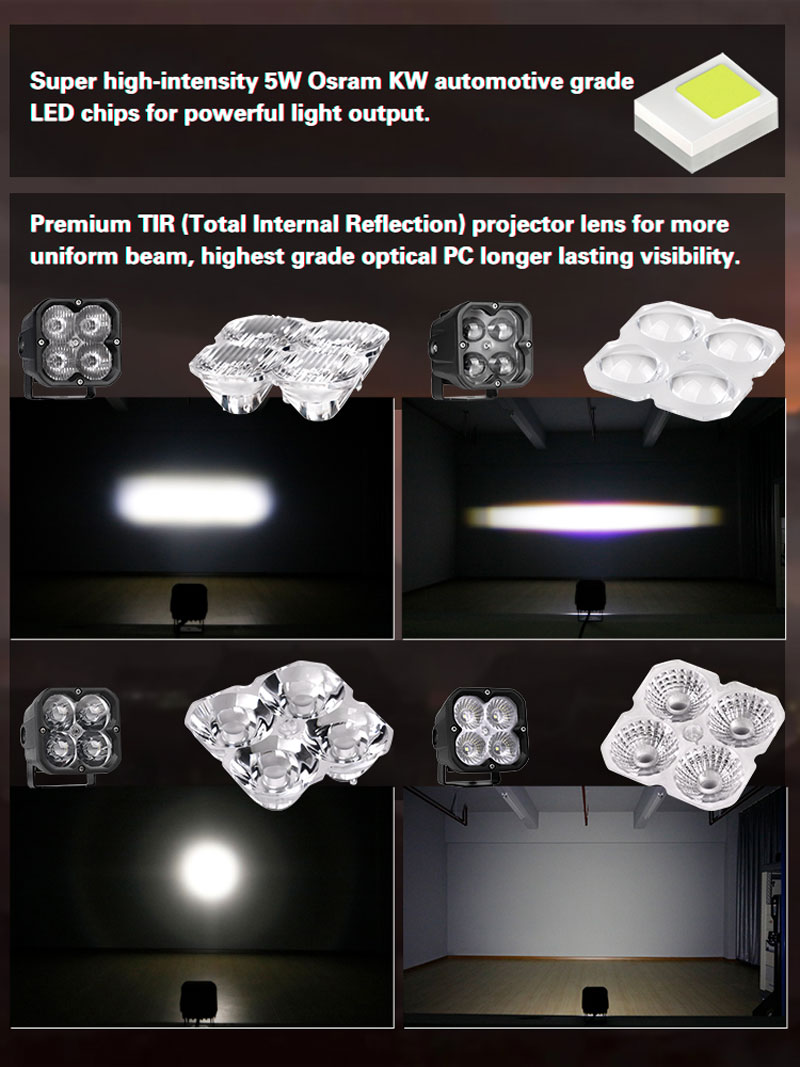 · Outer two-side hardened flat PC Lens
Off-road driving poses so much more of a challenge than city driving, for all reasons. Wet and muddy conditions are tough to handle, as is off-roading in the desert. Rocky terrain and steep inclines appear their own unique set of difficulties. Shaking and bumping may happen at any time on this unstable road. If we won't use the best material on lens of 3012 series 3" pod lights, it is difficult to guarantee that the lights and circuits inside will be damaged, which will further endanger your safety. So we select the outer hard flat PC lens, it not only features non-accumulation of dirt, with two-side hardened material, it is also better to protect the lights inside even seriously rubbed against by rocks, sand and branches.

· Smallest dimension
Installation is a key factor to affect the desire to purchase a 3" pod light, so pod light dimension matters. Our 3012 series 3" pod light is compact design, less weight with 392.93g (fog beam pod light as example), after our careful testing, this weight is more solid construction to withstand tough conditions, based on the smallest design for easier fitting into more vehicles and positions.
An excellent product has to have undergone continuous updating and upgrading to make it closer to the needs of our customers and more suitable for this market. When we initially launched 3012 series, we received many good and bad feedback from customers who have tested it. We are grateful for their suggestion, which make 3012 series do a better upgrading and improvement.

1.Adoption of imported breather valve instead of breather membrane, better performance, non- falling off, durability.
2.Thicker heat sink pins design to increase cooling capacity.
3.Increased housing weight from 339.68g to 392.93g (fog beam pod light as example), more solid construction to withstand tough conditions.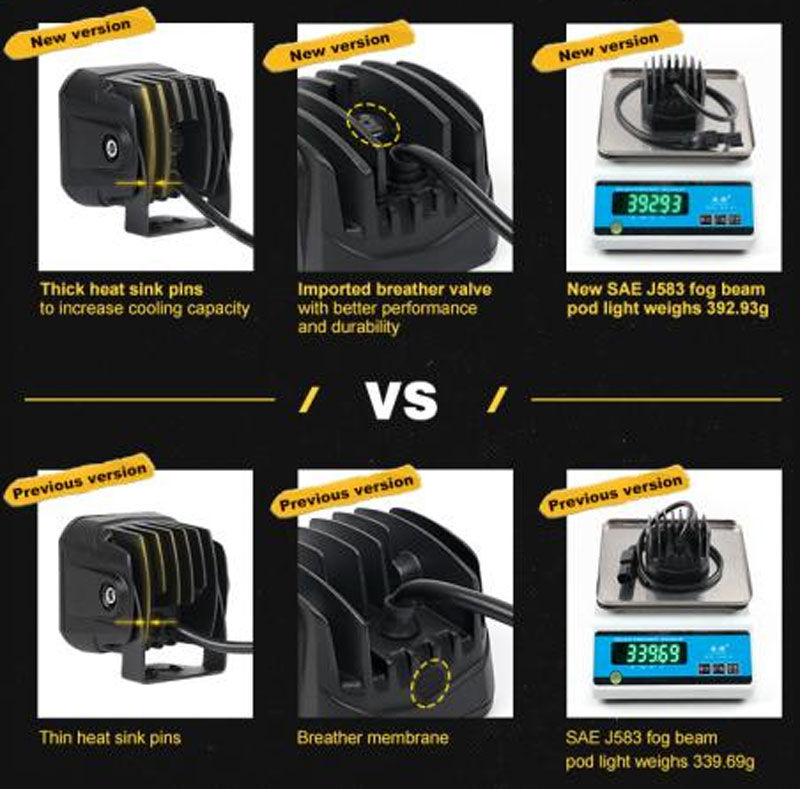 More positive feedback, more confident in the markets.
We make an progress from the bad feedback and suggestion, we are also more confident and proud of the efforts and hard-work we made.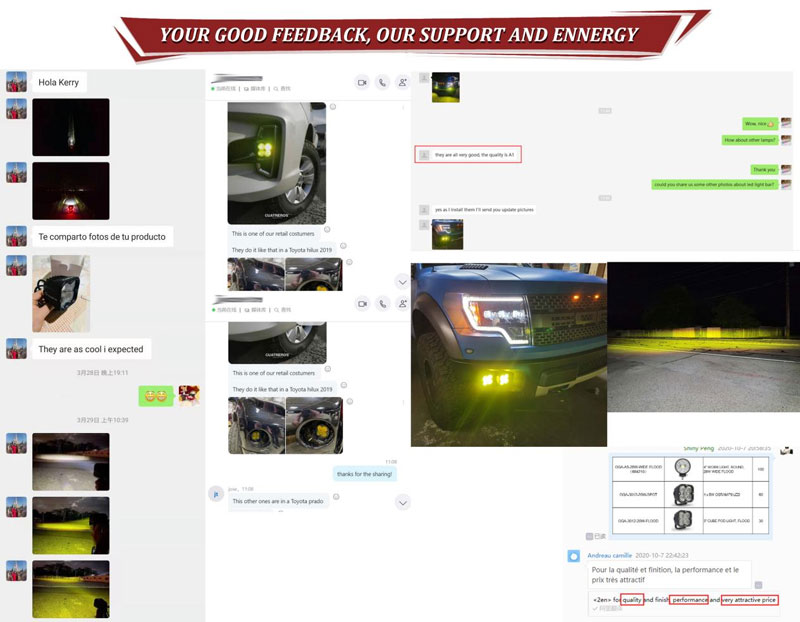 To be conclusion, We are very grateful that 3012 can be high recognized by you, and we truly hope that our products can make your business better and hotter! In this era that enjoys the rule of double win, our customers' market will become more and more competitive, and the end users will feel at ease and happy only when our products are more quality and more competitive.
If one day, you are long for having a row of gorgeous and high-grade pod light on the roof, bumper ,bull and rear of your luxury car, and you can take them them in the city, just choose 3012 series 3" pod light, because our 3012 series approves SAE certificate, which can not only allow you to use off road, but also freely ride on the road!
If one day you want to purchase a more powerful and beautiful beam pattern pod light, just choose 3012, because it adopts the best 5-watt Osram KW LED chip and advanced TIR optical parts.
If one day you are outdoors in the wind and rain, you are enjoying your own superb driving skills in the rough and muddy mountain while offroading, but at the same time, you have to worry about whether my car lights will be damaged by the rain, hit by rocks, so that the circuit damage to our great safety risk, that really feel bad. Just choose 3012, it lets you eliminate these concerns, our 3012 uses double-sided super hard PC lens, no fear of water, no fear of daily bumping.
If one day you need a small, easy-to-install pod Light, just opt for the 3012 series light, and you'll get a quick and pleasant installing experience!

We believe the 3012 will hit more countries markets in the near future, and that's what it is doing right now.
There are 4 kinds of beam patterns options:
- Auxiliary SAE J581 High Beam (Yellow lens available, not SAE)
- Auxiliary SAE J583 Fog Beam (Yellow lens available, not SAE)
- Wide Flood
- Hyper Spot
Square, round, flush shape for your multiple options.
Engaged in this industry for 13 years, we have formed our own product positioning, that is, we only do the middle high-end market. With our own research and development team, we collect customers' suggestions, study the expectations and drawbacks of POD Light in the market, and strive to make our products the best, so as to minimize the defect rate of products and reduce customers' complaints. This is the unique place of our 3012. If you also want your market to be more and more unique, then please cooperate with us!