Nearly every automotive LED lighting manufacturer has a very large number of different light types, within those types are a ton of different beam patterns offered. The overwhelming number of options can make it tough to find the right auxiliary LED light for your market, which is why we put together this very general breakdown to help you understand that there is no such thing as the best beam pattern, and each beam pattern has its own characteristics which work best for a specific application.
It is important to let the intended use of the light (which is the application of the light) drive your decision while bulk purchasing auxiliary LED lights or light bars. It is also significant to know whether or not they will be used only for off-roading, if not then a certified street legal beam needed to be put into consideration.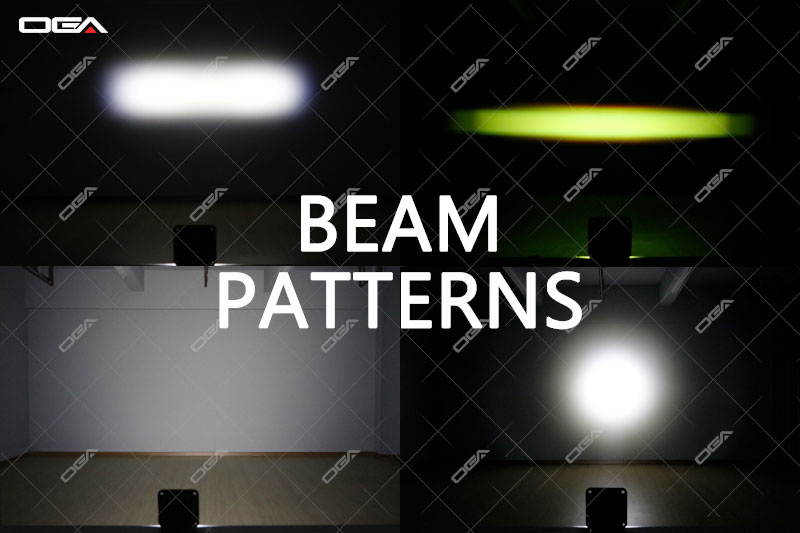 What are Beam Patterns?


The beam pattern of an automotive LED light is the angle of illumination or the angular spread of visible light produced by the reflector lens, which is the way the optics of a given lighting system harness the light created by the diodes. There are many different beam pattern types, all with different names from different auto lighting manufacturers. However, beam patterns can be broken down into a couple of general categories, all of which suit different applications.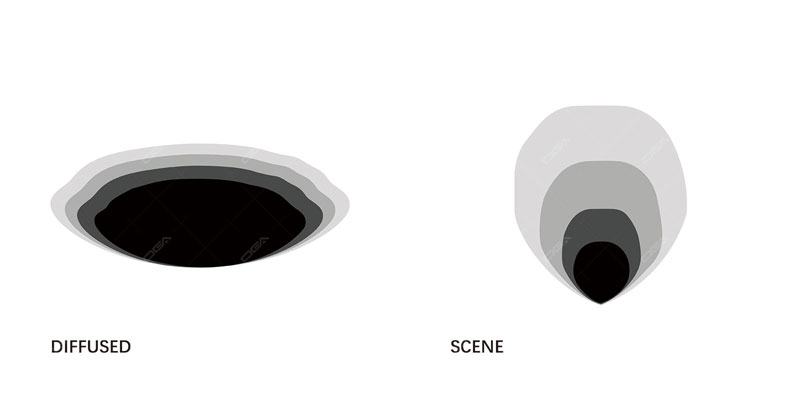 First up,

diffused beam patterns

and

scene beam patterns

, both are designed to sacrifice range and light intensity to project light over a wide area. Diffused and scene beam patterns are perfect for use as work lights, reverse lights, or as auxiliary lights to be used in conjunction with other off-road lights that have more range, or they can be mounted on the sides of vehicles as ditch lights or side lights which can help to navigate trails at night.
Since these LED lights are low range and lack point intensity, they don't do particularly well with forward-facing lights and are extremely easy to outrun. They do output when vehicles are cruising along at 25 km per hour or more. Diffused and scene beam lights work best mounted in roof racks, rear bumpers or underneath bumpers and body panels.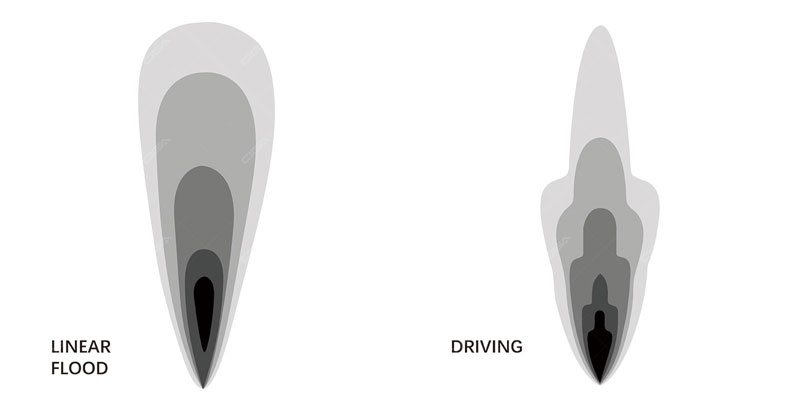 The next step up and range is the

flood

or

driving beam pattern

lights. Flood and driving lights are a jack-of-all-trades beam type that works well as both the general utility light and forward-facing light up to about 50 to 80 km per hour depending on the power levels of the light in question. The biggest difference between a driving and a flood beam pattern is that the driving beam pattern has very defined edges.
These lights shine light over a wide area, wide enough to illuminate the sides of the trail making obstacles easier to see which maximizes drivers' safety. They have better range and a more intense beam than a diffused/scene light. To accomplish such a uniform luminosity, the increased beam width is required with a decrease in distance. They are great for illuminating work areas, fast-moving trails, and curvy back-country roads.
While they're not as specialized as spot beams, they can still get the job done. Assuming you're not really flying around off-road, or need a less intense area beam for getting work done without losing years of eyesight. Flood and driving beams are excellent choices for the lower grille, front off-road bumper, in the opening underneath the bumper, or as fog light replacements, they can also make for effective reverse lights. But they can be mounted on the roof as well, the downside to mounting lights with a flood/driving beam pattern on the roof is that it will create a glare on the windshield and the engine hood causing distortion in its true capabilities.
They're great to use as auxiliary LED lighting for cars, SUVs, trucks and even ATVs, UTVs. OGA LED offers these beams in smaller lights like our 3012 series 3-inch LED pods. That's going to allow users to fill out any areas at a worksite or a campground, or if users are traveling, slow wheeling or crawling, we'll recommend our flood beam option. 3012 series LED pods are best used for on-road driving since they are only offered in smaller light sizes which limits the potential output of the light. If you have a thing for fast late-night trail off-roading, they should probably still be paired with a spot beam for best results.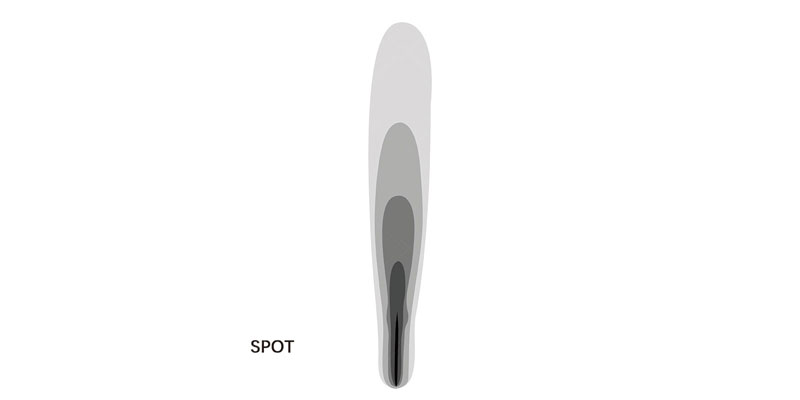 Next up, we have

spot beam patterns

, which include spot, hyper spot and laser beam pattern types among others. Spot beams are designed to shine light farther and point intensity at the cost of beam width and breadth, the huge range of these lights makes them perfect for high-speed desert running and other extremely aggressive high-speed off-roading above 65 km per hour.
However, due to their extremely narrow beams, these lights have a rather limited utility outside of fast off-roading, they don't make for particularly good work lights, utility lights or reverse lights. Even in their intended forward-facing application, it's still wise to pair them with a few driving or flood beam lights in order to see what's going on towards the sides of the trail. Due to their beam pattern being extremely narrow, spot beam lights can be placed just about anywhere on the vehicle of choice without causing excessive amounts of glare. They're right at home on hood range mounts, the front areas of roof racks, front off-road bumpers or in-stock bumpers.

Then, we have

street legal beams

, which are either SAE or ECE certified for use on highways. Street legal requirements vary between jurisdictions. However, the most important thing is that any lights planned or wanted to be used on the highway, need to be ensured that it is certified in the respective province or state to avoid fines.
The next two beam patterns we offer are SAE/DOT road-legal depending on your state and local regulations. The first one is an SAE driving pattern that followed the J581 standard. This is also known as an auxiliary high beam because it can be used to supplement the vehicle's factory high beams. If your customers are looking to legally see further down the road at night, they'll get a lot more output than their factory high beams alone. We also offer driving beam light bars that are SAE approved, like our 46 series 20 inches light bars, which impressively are also E-mark ECE R112 approved.
The second option will be our SAE fog light that is going to follow the J583 standard, which is the fever 3 inches light on the market that is able to do so. That's because we're able to really replace factory fog light, ensuring a nice cut-off to the fog pattern while still maintaining a super wide spread of light.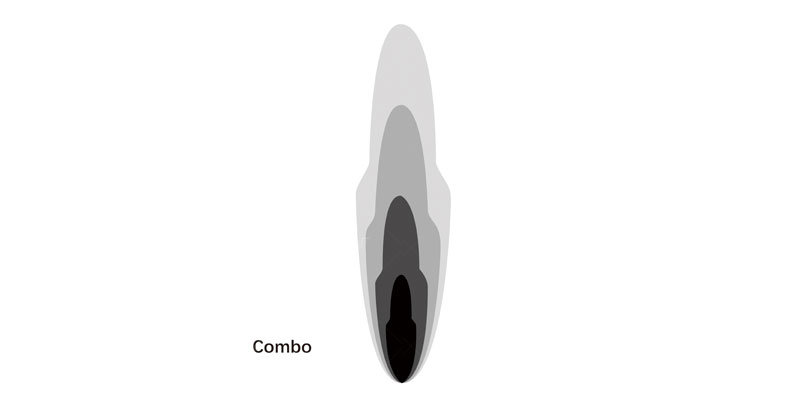 Finally, we have the

combo beam

, a combination of spot and flood beams in one light. While having a certain beam pattern for the off-road light is great, what's better though is to get a couple of different beam patterns all in one place, that's where off-road LED light bars shine. They can illuminate the ditch and highway while driving, extremely great for driving and working.
Most off-road light bars feature multiple optic types, which help users get a beam pattern that's more effectively meeting their needs just by mounting an individual off-road LED light bar alone. Basically, every off-road LED light manufacturer has several different light bar types and designs, and the ones you should choose are going to greatly depend on the lighting needs, budget and how much mounting space they are going to take.
The two most basic types of LED light bars are dual row and single row, with dual row light bars having two rows of LED chips and optics while single row light bars only have one row of LED chips and optics, naturally dual row bars output more light but they're typically more pricey and not as compact as single row bars light bars are. They're best mounted in areas with more breathing room such as the vehicle's roof, grille or bumper whether it be stock or aftermarket.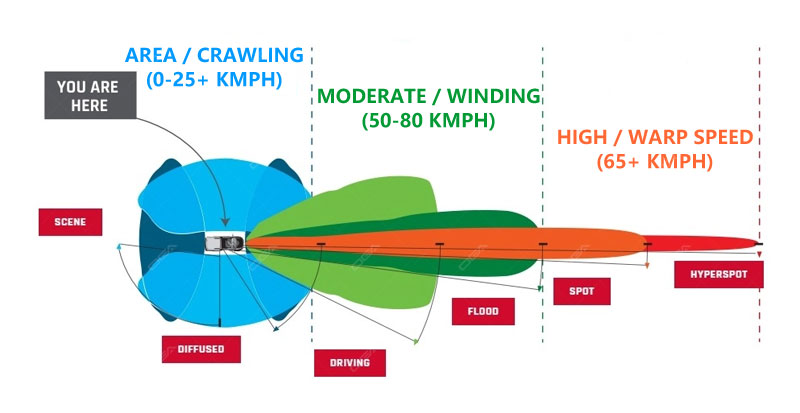 Simply put,
if you're looking for reverse light or need to light up a small area, the diffused/scene will do it; If you're taking it slow and need to light up a huge area, the flood is your choice; If you're looking to see really far, use the spot. If you're on the road and you need to see further down the road, use the SAE driving; If you're looking for a nice upgrade to your factory fog lights or adding a fog light application, the SAE fog will be your best bet; If you want a couple of different beam patterns all in one place, the LED light bar combo beam wouldn't let you down.
If you need any more information about beam patterns, or if you want to discuss the light applications, please feel free to contact us and we'll get you the right lighting solutions. Feel free to browse through our lights at ogaled.com, if you want to get a sample or become our dealer, leave a wholesale inquiry and we'll get to you as soon as possible.