Hey guys, it's OGA here. As you know, we're dedicated to developing the best off-road LED lighting products for off-road enthusiasts. For them, driving at night off the beaten track, a pair of high output headlights are not enough, a brighter auxiliary LED light is also needed to illuminate the road ahead for a better nighttime driving experience. Not only do auxiliary LED light creates higher light output to get off-road enthusiasts where they want to go, but auxiliary LED light is durable construction, built for off-roading, that's why off-road enthusiasts install light bar or LED pods for their offroad vehicles. To this end, today we are introducing our 48 & 49 series LED light bars.
Believe you all know what LED light bars were like 10 years ago. At that time, there were many problems with the quality, such as waterproof problems and LED chips easily burned out. There are many reasons for the waterproof problem, such as the design of the front frame with screws and the immature production technology. There are also many reasons why the LED chips are easy to burn out, such as the lack of a good heat sink, which makes the power of the light bar too high and the heat dissipation capacity is not enough, then the LED chip is burned out and the light bar has a shorter life service. With the progress of production and LED technology, problems have gradually been solved by many excellent automotive lighting manufacturers. There are thousands of light bars on the market now, but which one is suitable for selling on your market?
We have 13 years of experience in manufacturing and export of LED car lighting since 2009. Judging from the ordering situation and sales feedback of our customers, there are the following three factors that importers will consider when purchasing light bars.
Performance and reliability. Performance is the most important factor for importers when purchasing light bars. They learn a lot about the light bar before deciding to import in bulk. They only choose high-performance light bars. Can the brightness meet the nighttime driving needs? Is the waterproof performance qualified? How is the cooling system? If the heat dissipation system is not good enough, it is easy to burn out the LED chips and reduce the life service of the light bar. They will consider these questions before deciding to order.
OGA's 48 & 49 series light bars meet the high-performance requirements of importers. In terms of brightness, our light bar is super bright, and the illumination distance is ultra-long. The brightness of the 48 series 20" light bar is 5759.84LM, 1Lux@468m, which can definitely meet the night driving needs of off-road enthusiasts.
48 & 49 series light bars meet the IP67 waterproof standard, they can be immersed in 1m deep water for 30 minutes without water ingress. There are many manufacturers on the market claiming that their light bars are IP67, IP68 or even IP69K, but in fact, some of them have a certain waterproof problem. So how did we achieve this IP67? First, we reduce the possibility of water ingress from the outside. We use a screw-less front frame design to avoid cutting too many holes in the outer housing, which can not only reduce the possibility of water ingress but also prevent rust. Secondly, we use waterproof rubber strips and steel strips as the internal waterproof structure of the light bar. We use waterproof rubber strips first, fix them with steel strips so that the rubber strips are not easy to loosen, and the waterproof performance is greatly improved.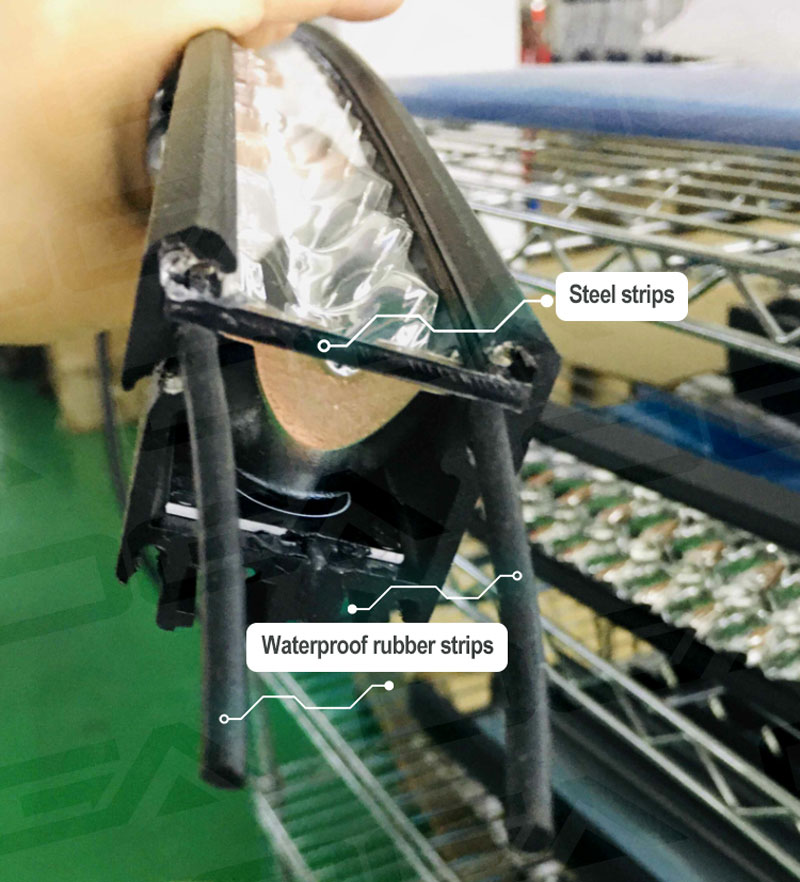 In terms of heat dissipation, considering the high power of the 48 & 49 series light bar, we use aircraft-grade aluminum outer housing + heat sink with cooling fins to increase the air contact area and the heat dissipation speed of the light bar. The high performance of OGA's 48 & 49 series light bar is the reason for the good sale.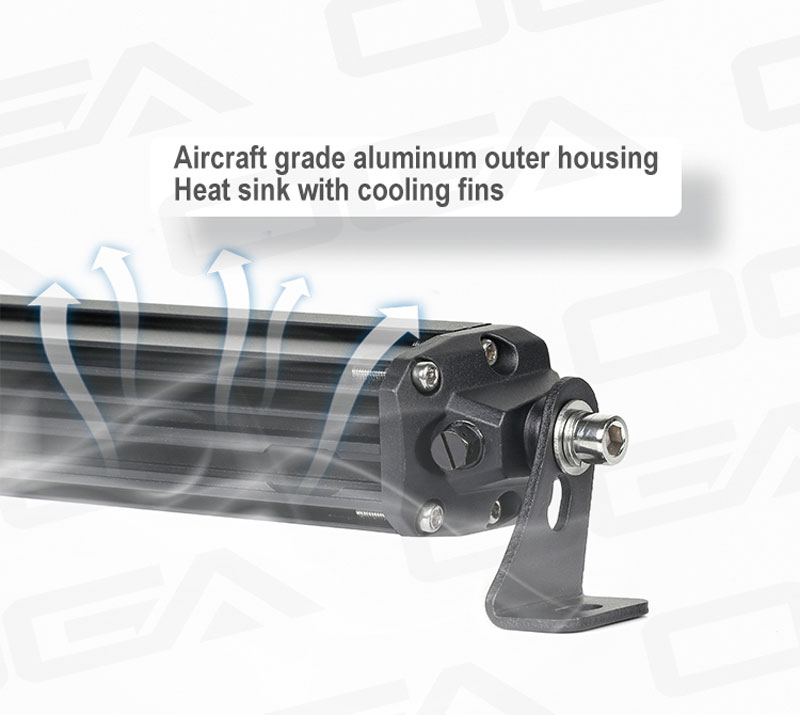 Price. Price is also a very important factor for importers. Every customer hopes to buy high performance with competitive price light bars, but the fact is that cheap products are of poor quality, and high-quality products are expensive. OGA's 48 & 49 series light bars meet the importer's requirement on this, high performance, moderate and competitive price, it is the best price of the same quality light bar you can find in the market. OGA's 48 & 49 series light bars help you be more competitive and profitable in your market.
Manufacturer's services. The performance and price of the light bar are very important factors, and the service of the manufacturer is also an important factor for the importers to decide whether to buy the light bar. Excellent service can reduce unnecessary time and sales costs for customers. OGA provides a 2-year warranty for 48 & 49 series light bars. During this time, if the light bar has quality problems, we can replace it for you. Besides, we also provide OEM service.
Why do we recommend 48 & 49 series LED light bars?
48 & 49 series light bars are high-performance at an affordable price. They would be a good option if you have a plan to add a cost-effective auxiliary LED light to your product lines.
Also, we have received good feedback from our customers. Our customers are satisfied with the test result, the end users give five-star praise. 48 & 49 series light bars have a good sale in the North American market.
What are the features of the 48 & 49 series light bar?
Variety in sizes. 48 & 49 series light bars are available in 12", 20", 30", 40" and 50", straight and curved version are optional, curved light bar is without 12". 20" is the most popular size.
Suitable for any weather conditions. White and Amber bars are optional. The white light brings a longer illuminating range on the road, while the amber light bar offers better visibility in foggy and rainy conditions. You can freely choose whether you want a white light bar or an amber light bar according to the intended use. We also make black covers to protect the light bar and keep it legal on the road. The black cover is sold separately.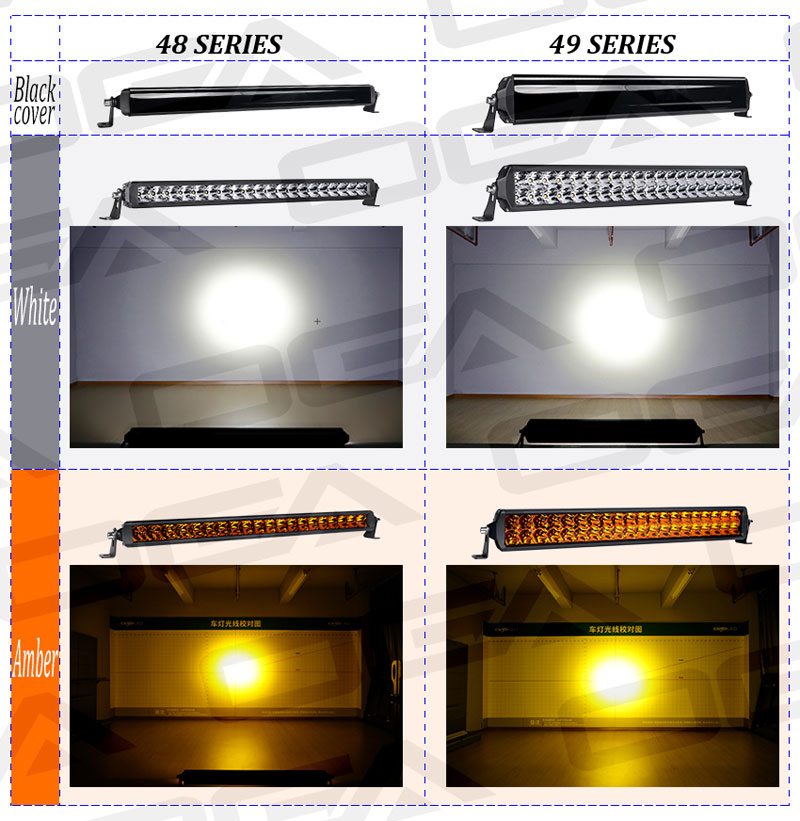 Impressive output. We adopted high-power 6W OSRAM P8 LED chips and well-engineered optics. The perfect combination creates higher light output, further lighting range and better beam patterns.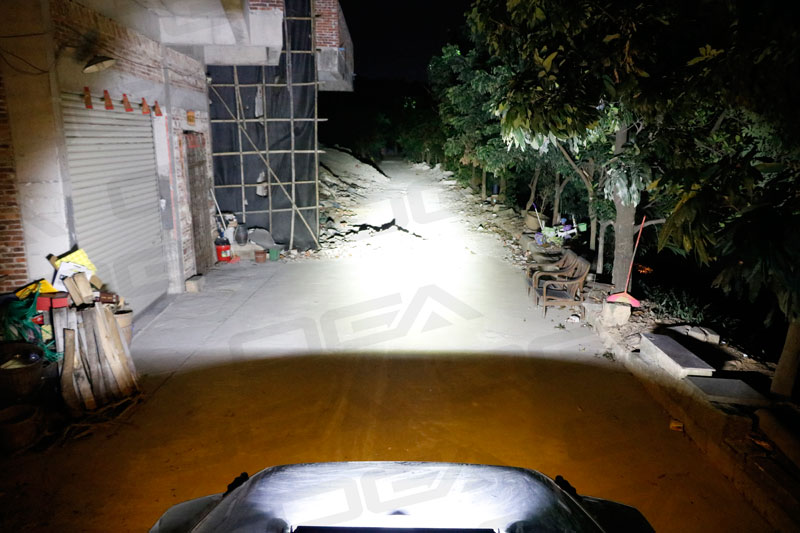 We offer 48 & 49 series in combo beam and spot beam. The straight version is the combination of spot and flood, creating a longer and wider illuminating range, 1LUX@468m (48 series 20" straight single row light bar).

We adopted two optics for 48 & 49 series light bars, reflectors with vertical stripes to create flood light, and sleek reflectors to create spot light. By connecting reflectors with vertical stripes and sleek reflectors, 48 & 49 series light bars illuminate wider and ultra-longer lighting ranges. If you're looking for a light bar with high performance, and impressive output, just choose OGA's 48 & 49 series light bars.

Designed for offroad. 48 & 49 series light bars are designed for offroad. Built with aircraft-grade aluminum outer housing for excellent heat dissipation, extreme durability and shock resistance. Equipped with imported optimal breath valve for faster removal of water vapor and mist and ensure a longer life service. Double sides hardened PC lens is not easily scratched. No screw front frame design is for anti-corrosion, better waterproof and stylish looking.
Wire and Install easily. 48 & 49 series light bars are easy to wire and install. The light bar can come with a DT connector or bared wires for different wiring solutions. If you use our wiring harness, just connect the wiring harness to the DT connector of the light bar.
48 & 49 series come with side mounting brackets and bottom mounting brackets. We also provide a vehicle-specific mounting bracket, like a specific mounting bracket for Jeep Wrangler JK, UTVs or other off-road vehicles, you can install our light bars without any cutting or drilling. 48 & 49 series light bars feature a slim and low profile, which allows the light bar to be installed in more positions on any car, bumper, bull bar, grille, roof, etc.
48 & 49 series straight light bars have been tested and approved in salt spray test, high-temperature test and shock test. We believe you would like 48 & 49 series light bars due to the high performance if you take a test by yourself. Samples are ready for your inspection, contact us for a better wholesale price!
We hope we can help you reduce the cost of selling, therefore, we provide OEM service for you.
What OEM service do we offer?
We provide logo laser service on the light bar.

We can silk-screen your brand LOGO on the black covers of the light bar.

We also offer customized packaging services. If you have the idea for the packaging, please send us your design file, if you don't have it, we can design your packaging.
48 & 49 series light bars had a good sale in the American and Canadian markets since we released them. The light bars would have a good sale in other markets. Leave your inquiry to get the wholesale price and become our dealer, let us know your idea!