Types of Jeep Grab Handles
Shaky Fabric Type Jeep Grab Handles
The Shaky fabric type Jeep Grab handles are easy to install, they can be attached and removed without much effort, and they tend to sway while the vehicle is moving. They are also cost-effective. In our humble opinion, they're not the best. When driver and passenger want to get into the vehicle, they're right in the middle, driver and passenger have to duck underneath them to get inside, and people always end up bumping their head on it. There are many fabric type Jeep grab handles available for different models and make of Jeeps, but please note that these types of grab handles are not durable.

Metal Jeep Grab Handles
Metal grab handles are often heavy duty. The Jeep grab handles made of aluminum alloy are sturdy and durable. The steel handles don't swing back and forth as other cheap Jeep grab handles.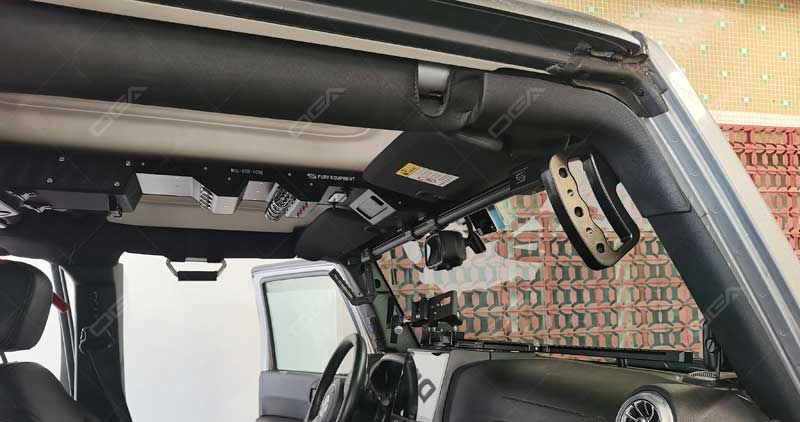 Jeep grab handles help prevent accidents when riding on rough roads in a Jeep. A well designed grab handle will keep the driver and passenger comfortable, secure and safe. Since the size of the mounting point in these grab handles is based on the data of factory screw and factory screw hole, the installation process is super easy, which is a direct bolt-on, no need for drilling, cutting or other modifications. People don't have to worry about free entry and exit to the Jeep, even if the vehicle's passing ability has been improved through raising the chassis. Fall and slip accidents often happen to drivers and passengers due to the high height of the Jeep if the Jeep doesn't fix any grab handle. Most of these accidents happen in poor weather, and the driver is unable to grab onto anything in the absence of a grab handle. That is why grab handles should be fixed to prevent accidents.
Why Buy Jeep Grab Handles?
Getting In and Out of The Jeep Easier
After buying and mounting the Jeep grab handles, it shouldn't be much of an effort to get in and out of the Jeep. When getting in the Jeep, the grab handles can be used as leverage for people to pull themselves inside, similarly, the grab handles should be able to prevent people falling when getting out of the Jeep.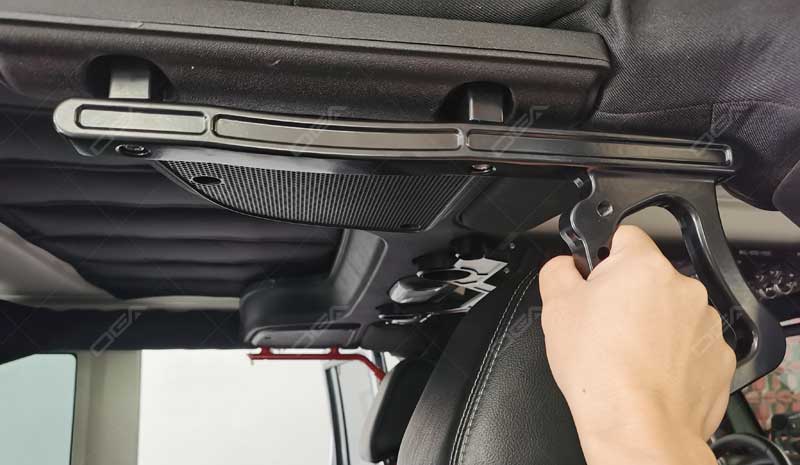 Secure Driver and Passenger
Some people are into rough rides and hitting a bumpy, muddy, or rocky road where the driver and passenger will bounce a lot. The first little thing a lot of people do to their Jeep when they got it was installed a grab handle over the left pillar, specifically the driver's side pillar that goes from the windshield up to the roof, same as the one over the passenger side. This is because the Jeep grab handle will keep the driver and passenger safe even when going on bumpy tracks. Always buy high quality Jeep grab handles, because safety should be the first thing to consider, never compromise on the quality of the products over price as they will affect people's safety down the road.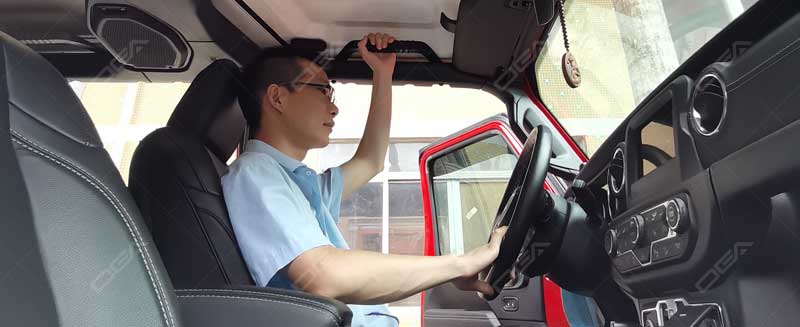 How to Choose Jeep Grab Handles?
When choosing Jeep grab handles, make sure it is the right size for the Jeep. If the Jeep grab handle is not of the right size, it will affect the functioning and opening of the door. The design of the handle should be ergonomic so that people can nicely hold on to it. Most drivers prefer long grab handles because they offer a larger contact area. One simple way to be sure is to check the production description to find out if there are specific models and make mention of that Jeep.
One of the key features to look for when buying Jeep Grab handles is sturdiness and durability. Most people who own a Jeep drive off-road for an adventure, therefore the grab handles should be sturdy to go along with such rough driving conditions. Robust materials such as high-grade aluminum alloy ensure durability. It is best to affix the metal grab handles to the Jeep, it ensures that they don't warp or sway while driving. The prices of Jeep grab handles will vary based on different materials. If made of cheap materials like Velcro, canvas or nylon, they will cost less but last only a short amount of time. Jeep grab handles made of better materials like metal will cost more. Do remember that grab handles made of suitable materials will last longer.
If driving a Jeep with the top removed, grab handles that are able to withstand harsh weather conditions should count into consideration. It is especially true if the area is a rainy place. Waterproof Jeep grab handles are also sturdy and last longer.
Poorly designed Jeep grab handles tend to emit noise while driving. Constant noise is frustrating when going for a long drive. If the design of the grab handles is not aerodynamic, they will create such drag, and people will be unable to enjoy their drive.
The grab handle should be easy to install. There should be two options on where to mount these Jeep grab handles, the front and the rear, which will improve the safety and comfort for both driver and passengers. The rear grab handles are especially useful if traveling with women, children or the elderly.
The OGA Jeep Grab Handles
Let's introduce you to our new Jeep grab handles for the 2007-2018 Jeep Wrangler JK. When driver and passenger get into the vehicle they can grab it with the right hand or the left hand, and then step right inside the vehicle. Whether the vehicle is lifted or stock, it makes it much easier to enter the vehicle and exit the vehicle. People can just grab it, and pull themselves up, then scoot right in. These are very sturdy aluminum alloy, powder coated, really nice-looking, suitable for 2007-2018 Jeep Wrangler JK nicely and very practical. One of the most practical improvements people can make on their Jeep Wrangler! In addition, we also offer a product that universally fits the front and rear of all Jeep Wrangler JL. One slight difference is that it's better known for holding rather than grabbing. These OGA Jeep Grab Handles have all the pros that we've already covered above, easy installation, sturdiness, durability and not easy to rust. So please do check them out, partner with us, ask for samples and get a discount for bulk purchases.