The Upgraded 3012 Series Hyper Spot 3" LED Cube Pod Lights
A lot of you have been asked for a compact-sized LED work light that emits a much stronger, more focused beam than the old version 3012 series hyper spot 3" LED work light with OSRAM P8 LED chips as its core. Once we received this feedback, our sales team have been communicating with our engineers and our high-end production team to solve this problem. And after several rounds of meeting and testing, our engineers suggested adopting 5W OSRAM automotive-grade KW LED chips to achieve a much more powerful spotlight output. After it passed the tests, our production team made the new version 3012 hyper spot 3" LED pod light come true. The upgraded version also uses the highest-grade optical PC, an advanced TIR projector optics that emits a much more precise beam, and it's now featuring longer-lasting clarity than PMMA. There you go, "The 3012 series hyper spot 3-inch LED work lights 2.0 Release Details", check out the picture below for a much direct comparison.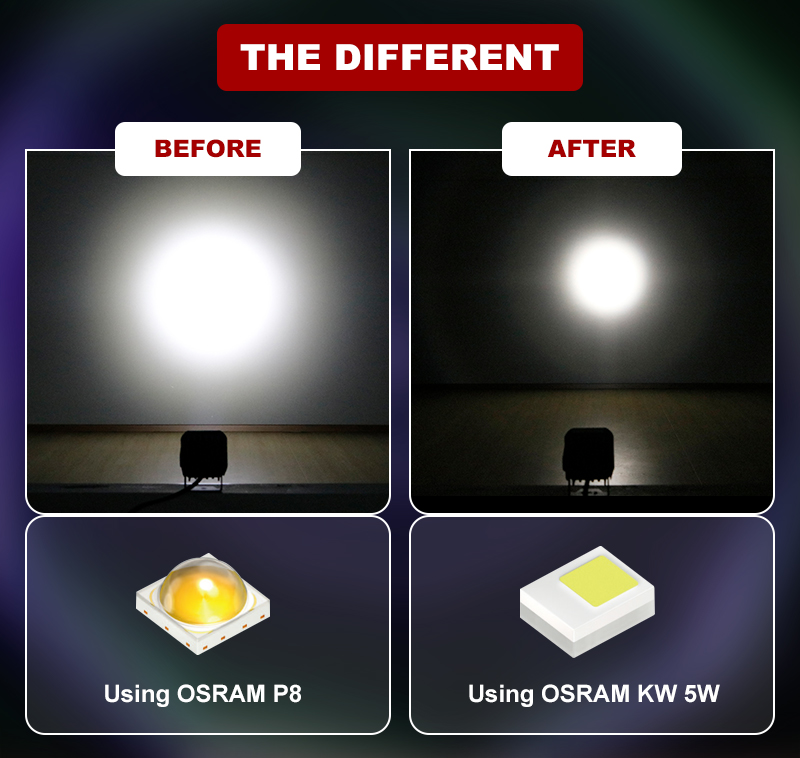 The first and foremost thing is the overall construction, what are they built with. Because you're going to be off-roading with these LED spot lights, they have to be able to withstand certain amounts of impact, vibration and extreme climate. To make sure they last, you should look for products that are constructed with high-quality material, including the overall housing, the lens, the mounting brackets, etc. Also, make sure they're at least IP67 rated.
Try something that comes with versatile mounting options, especially if you're mechanically inclined. And remember to check if there's a detailed instruction on how to set these LED spot work lights up and wire them. It could be a little challenging to install them. Because normally you need to drill or even cut a hole for the installation. Think thoroughly before you mount them because these LED work spot lights have a specific area for them to provide their best performance, they should below the mirror of your vehicle and typically place in the grill, on the front bumper. And you need to think about the available space your vehicle has, make sure to measure the dimensions, and choose those that will fit perfectly.
If you're looking for moderate-priced off-road lights, consider the OGA 3" LED work lights, they're what we marketed as the best value pick. Designed for Jeeps, Hummer, SUVs, ATVs, UTVs, pickup trucks and more, these LED work lights have two-year warranties and a 6000K color temperature. The lights draw very little current, making them an economic option. They feature die-cast aluminum housing for much efficient heat dissipation and corrosion-resistant. Designed for off-road vehicles, these 3" LED pod lights are available in bottom mount and flush mount choices, and they're IP67 rated. They're featuring an outer hardened flat PC lens, which is scratch-resistant and dustproof. They're also shockproof, all of these characteristics contribute to a longer lifespan. Don't miss OGA upgraded 3012 series hyper spot 3" LED work lights with 5W OSRAM automotive-grade KW LED chips. You will be amazed by the super narrow and long-range spot beam pattern! Now is the best time to test samples! And if you take a look at the specifications of this series, you'll find it has three other beam patterns available: SAE auxiliary driving beam, SAE auxiliary fog beam and wide flood beam.