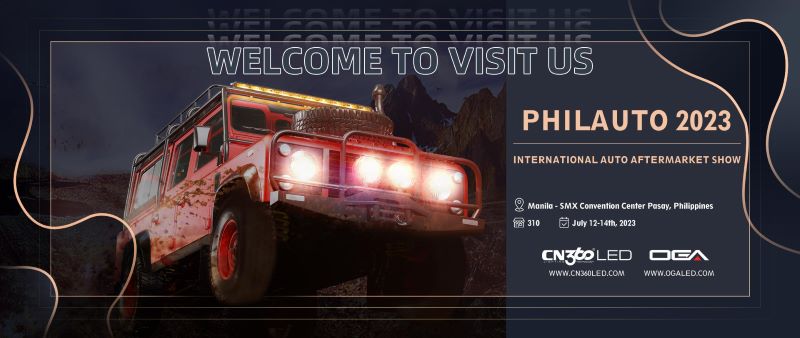 We are delighted to announce our participation in the upcoming Philippines PhilAuto exhibition, scheduled to take place from July 12th to 14th. As the leading platform for automotive industry professionals and enthusiasts, this event promises to be an exciting opportunity for us to showcase our latest LED car lighting products. Prepare to be dazzled as we unveil cutting-edge LED forward lighting, innovative LED auxiliary lights, and much more. Join us at booth No. 609 to explore the future of car lighting technology!
PhilAuto is renowned for bringing together industry experts, manufacturers, and car enthusiasts under one roof. This year's event promises to be no different, with a wide range of exhibitors showcasing their products and services. Whether you're an automotive enthusiast, a business owner, or simply curious about the latest trends, the exhibition offers a unique opportunity to stay ahead of the curve.
At booth No. 609, we are thrilled to present our latest LED car lighting products. With years of research, development, and innovation, we have revolutionized the way drivers experience car lighting. Our team of experts has worked tirelessly to bring you a selection of top-of-the-line LED forward lighting solutions. These advanced headlights not only provide superior brightness and clarity but also consume significantly less energy than traditional halogen bulbs. Prepare to be amazed as we illuminate the future of car lighting technology!
In addition to our forward lighting range, we are proud to introduce our state-of-the-art LED auxiliary lights. These versatile lighting solutions are designed to enhance your driving experience, ensuring optimal visibility in various weather conditions. Whether you're navigating dark roads, exploring off-road terrains, or simply want to add a touch of style to your vehicle, our LED auxiliary lights are the perfect companion.
One of the highlights of attending the PhilAuto exhibition is the opportunity to meet our team of knowledgeable experts. Our representatives will be available at booth No. 609 throughout the event, ready to answer your questions and provide in-depth insights into our LED car lighting products. From technical specifications to installation guidance, our experts are dedicated to helping you make informed decisions about the best lighting solutions for your needs.
The PhilAuto exhibition is not just about showcasing products; it's also an excellent platform for networking. Engage with industry professionals, connect with potential partners, and exchange ideas with fellow enthusiasts. The event fosters a collaborative environment where you can build valuable relationships, discover new opportunities, and stay updated on the latest industry trends.
The Philippines PhilAuto exhibition is set to be an unforgettable experience for automotive enthusiasts and industry professionals alike. Make sure to mark your calendars for July 12th to 14th and visit our booth No. 609 to witness the future of LED car lighting. From our cutting-edge LED forward lighting solutions to our versatile LED auxiliary lights, we are committed to illuminating the roads ahead and providing an unparalleled driving experience. Don't miss this chance to explore the latest innovations, meet our experts, and be a part of the automotive industry's revolution. We look forward to welcoming you to the exhibition and showcasing the limitless possibilities of LED car lighting technology!