Guangzhou Ougo Electronic Technology Co., Ltd. was founded and first brand of CN360LED launched in 2009. The main products is LED forward lighting and car LED signal light. In response to the gradual changes and demand in the market, we founded the OGA brand in 2019 and start developing auxiliary lighting. Then, after these years of growth, we have gained specific growth in the market and products. Today, we will make corresponding product recommendations and sharing from three different aspects.
Street legal products
With the growing demand in the car LED lighting market and the rapid update speed, many countries or districts have set up legal road requirements for car LED lighting products, such as European EMARK certification, USA SAE certification and so on. Based on this actual situation, we launched the 3012 LED work light series and 46 LED light bar. The general parameters are introduced as follows:
1. Small size, 3 '' design with three different ways of installation: square, round, flush, suitable for various installation situation
2. With automotive grade LED chips, produce the standard car light beam, and provides a safe driving environment for drivers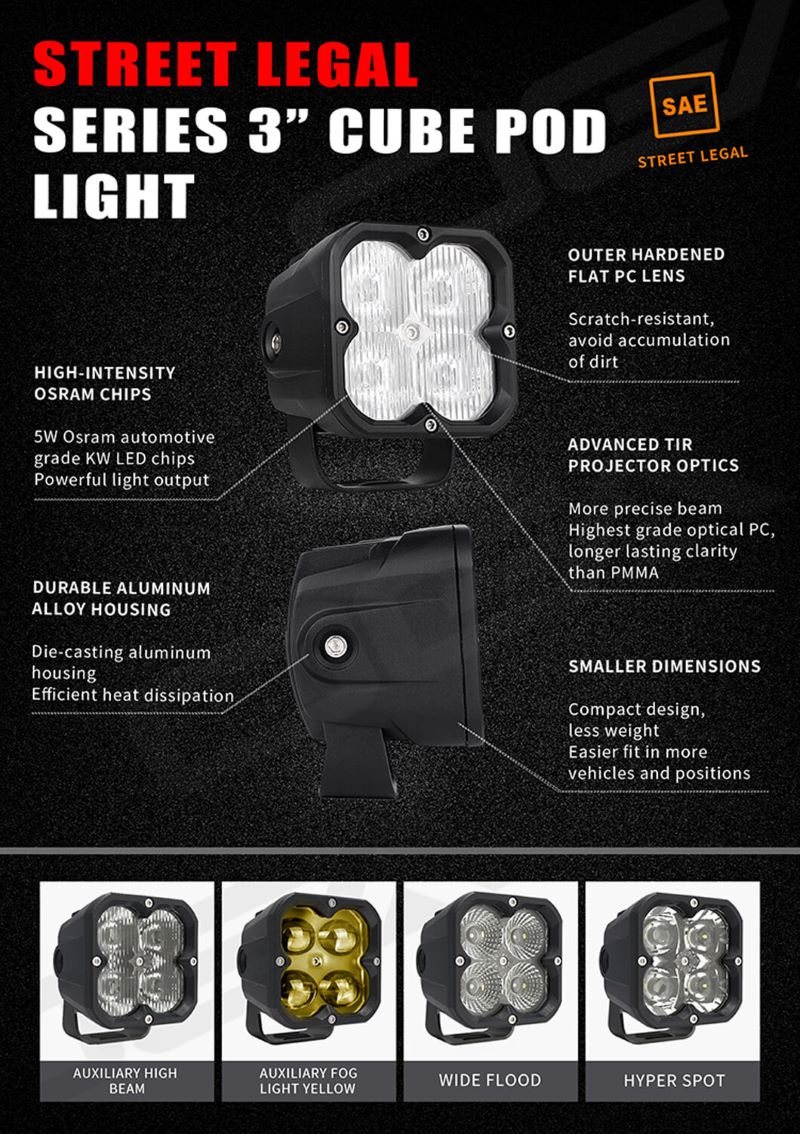 1. Low profile slim single row with no screw front frame
2. Patented optical design combine legal driving lights, fog lights and strobe lights all in one (20")
3. Versatile mounting options with sliding bottom mounts
Off -road lighting
In the market where we are in contact with LED forward lighting, many customers have high requirements for our light bulbs on brightness, such as Russia, Canada and the United States where is a vast territory with a sparse population. Because the LED headlight bulb havs limited brightness, people would prefer to add additional LED auxiliary lighting, such as LED work light and LED light bar. As for this situation, OGA launched different series to meet customer's need. Here, we want to recommend the 48/49 series and 54 series LED light bar.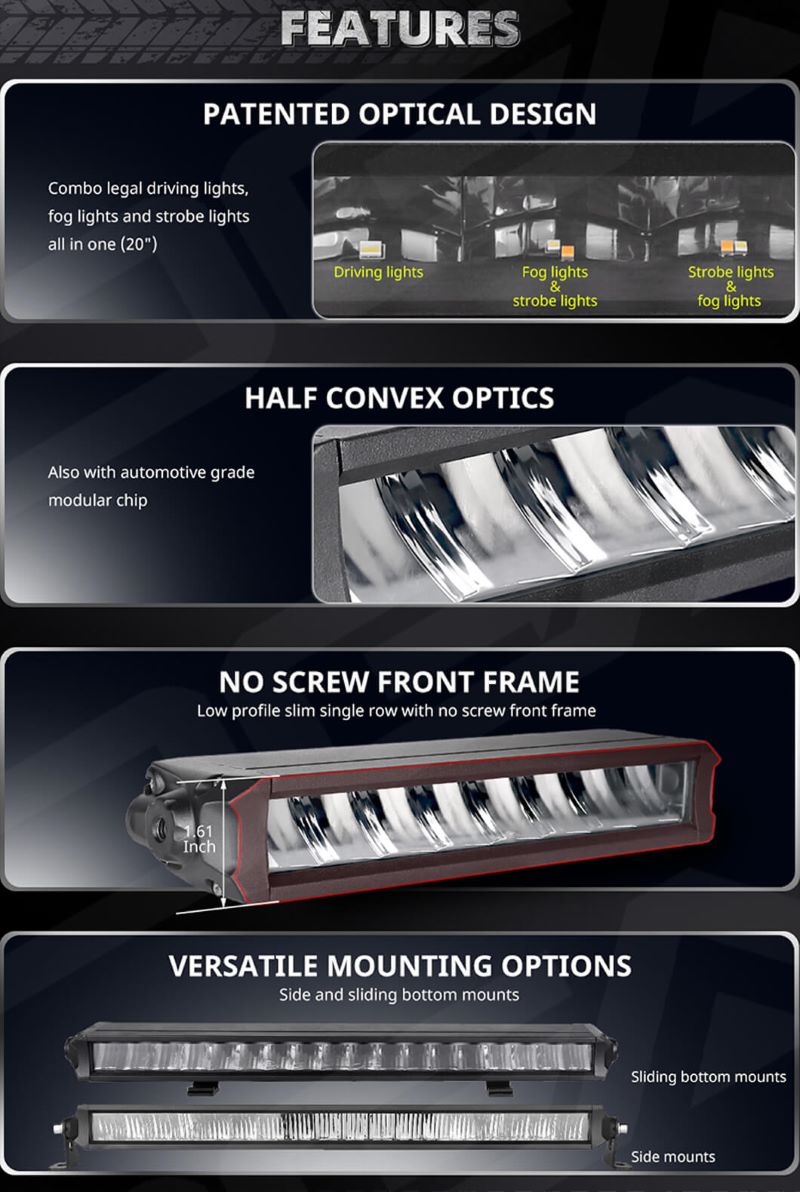 1. No Screw Front Frame
· Better waterproof and performance
· Lower profile and less corrosion
· Faster Heat dissipation on the front bezel and whole light
2. Optimized Optical Design
· High efficient Osram P8 LED Chips
· Improved reflector design for higher efficiency and beam pattern
3. Optimized Integrated Design
· Slim Low Profile for Easy Fitment in Bumper and Grills in More Vehicles.
· Optimized heat dissipation for highest light efficiency and a balanced weight.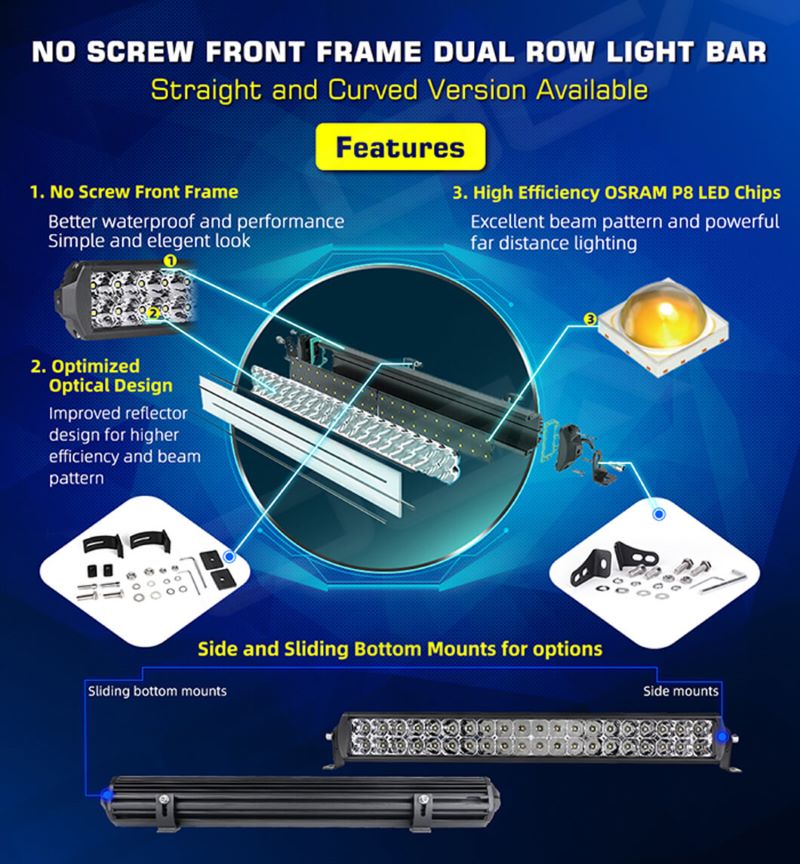 1. Screw less bezel makes the light bar slimmer than other ones in the market and gives a sleek look as well.
2. Thinner & smaller end caps with dissipation holes. The smaller, the better——that is the trend.
3. White and amber dual color & 3 lighting modes, quick switch and adapt to different driving conditions.
In additionally, there are many customized LED lighting products. We currently develop different series, MT20 series used on motorcycles, LED grille light used on Jeep cars, and various auxiliary installation brackets. We will focus on the R8 rear view mirror lamp on UTV.
1, Aluminum solid build housing is for excellent durable and shock-resultant, suitable for any information.
2, Stylish Appearance in Matte Black Makes The Vehicles Much Cooler.
3, packaging includes: 1 pair x size mirror with lights, 1 piece x wiring harness with control box, fuse and rock switch, 2 pieces x rubber strips.
4, offer 3 color temperature & 4 lighting models to improve safety under different weather or driving conditions. 4 Switcher Modes:
① White Spot (Default Start Mode)
② amber spot
③ White + Amber Spot
④ Amber Strobe Light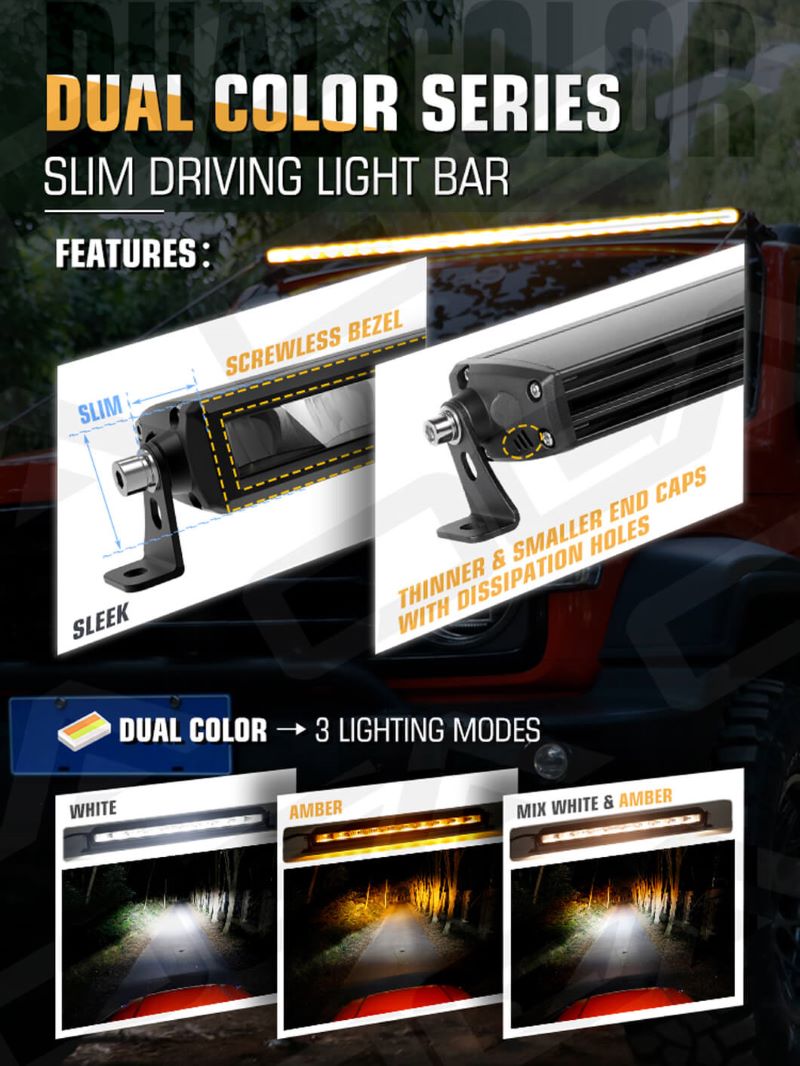 If you want to get more information of high quality auto lights, please seek OGALED.