Since stock fog lights have been used mainly halogen light sources, with the LED technology evolving, and getting more powerful, cheaper and more effective every day, there will be a market for car enthusiasts to upgrade their stock halogen fog lights to LED fog lights. As a professional automotive LED lighting manufacturer, we supply LED fog lights in multiple ways, whether it is to replace the stock fog lights or to retrofit a pair of new LED fog lights onto the vehicle.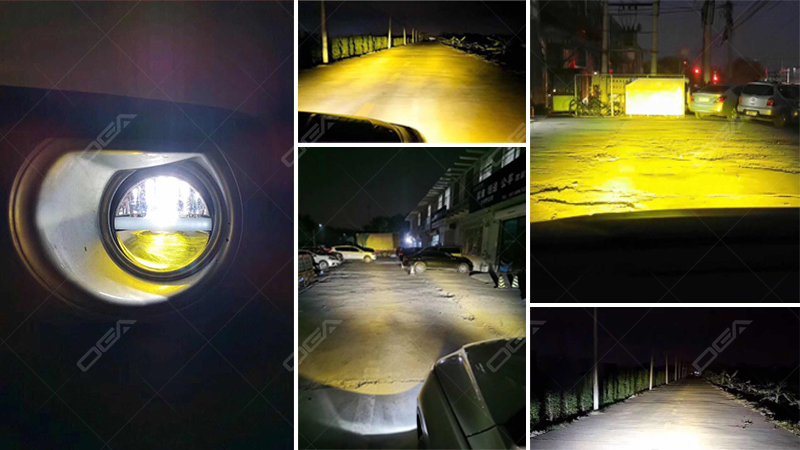 LED Fog Light Conversion Kits
LED fog light conversion kits are an excellent way to upgrade the fog light originally using halogen light sources, problem is, the LED fog light bulb conversion kits are not just needed to be careful adjust, and since LED chips are unidirectional which means whichever way the LED chips are pointed is the only way the lights going to shine. And so, if the LED bulbs are made incorrectly and being put inside a projector, it is not going to make a good beam pattern. So, people cannot just buy some random LED light bulb throw it into a project housing and hope it is going to work, the hope for the best strategy is not a good strategy. Here is the goal, mimic the original beam pattern, then see if the LED bulb takes a slim wide beam and blows it out of proportion, if so you know immediately it is not the right way. Having a tight control beam pattern not only help the drivers themselves see better, but it also prevents dangerous glare to oncoming drivers. And that is all the reason why today what we recommend are not LED fog light conversion kits but fog light assemblies and fog light pods.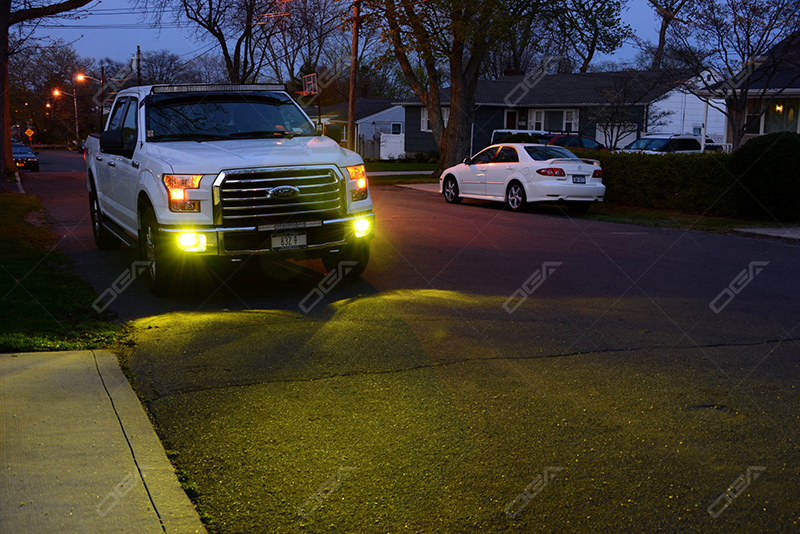 OEM Fog Light Assembly
Another simple way to upgrade fog lights is to replace them with entire LED-powered assembly housing, which provides an amazing light output and beam pattern that comes with a sharp cut-off and wide field of view, along with a modern LED light appearance. These LED fog lights not only supply light that is superior to incandescent halogen fog lights, but they are also vibration resistant and have a much longer lifespan. OGA offers a wide range of OEM fog light assembly kits that are perfect for replacing and upgrading the OEM fog lights for mainstream vehicle models in the market including vehicles like Toyota, Jeep, Ford, Honda, Mitsubishi, Subaru and Renault, etc., do stay tuned for more applications. These vehicle-specific custom fog lights we offered with a variety of desirable features, including well-designed reflector optics, LEDs in 6000K white and 3000K yellow and constant voltage driver, which provide increased illumination and eye-catching looks. For more information, please check out our OEM Fog Light Assembly category, you will find all the existent vehicle fitment information there, and if you cannot find the product you need, we welcome you to send us an inquiry.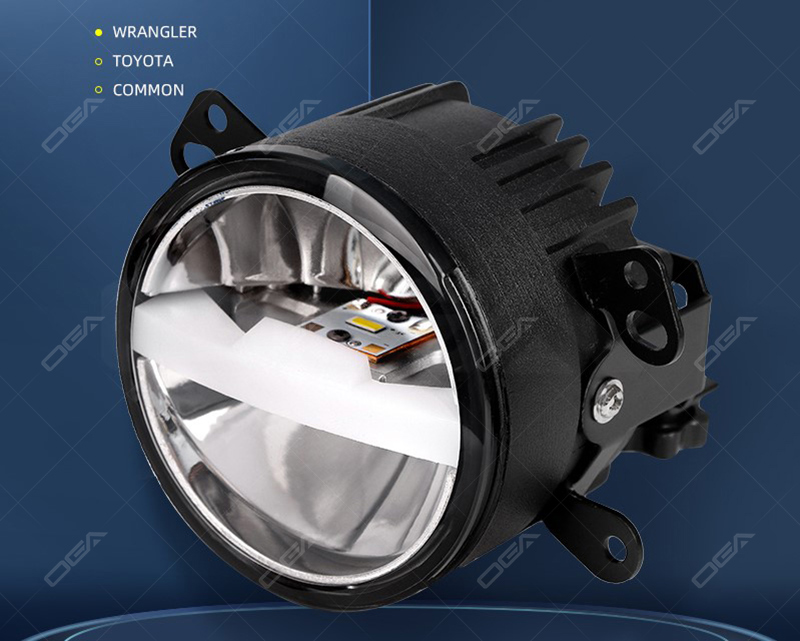 SAE Certificated Fog Light Pods
Whether it is to replace and upgrade the stock halogen fog light, or retrofit and upgrade to a modern LED fog lamp set up, we will have the kit to fit the different needs and preferences for the market. And that is where our SAE certificated 3012 series fog beam pod lights come into play, we use 4000K ZES cube pods as the perfect fog lights. The beams pattern from the 3012 series street legal 3 inches SAE led fog light pods significantly reduce glare, improve contrast and enhance definition. Advanced TIR projector optics with automotive-grade high-intensity OSRAM KW chips allow you to see way better in bad weather conditions. The 3012 series fog lights are SAE/DOT compliant which means they are legal to use on road. That is going to be a huge advantage because they not only allow drivers to have the best beam pattern, but also do not need to worry about blinding other coming drivers or getting pull over. General optics like reflectors or simple lenses lose the light that LED chips produce internally and cause glare, and so, not all of the lights project straight onto the target. But with the custom-engineered TIR optic in the 3012 series, all of the lights from the pod fog lights directly project on only where they are pointed, tremendously reducing glare and enhancing total productivity. Thanks to this unique feature, when coupled with high-intensity OSRAM LED chips, the total intensity of the 3012 series is far better than the other LED light pods using basic optics or reflectors. For more information, please check out our cube pod lights (SAE auxiliary fog beam) category.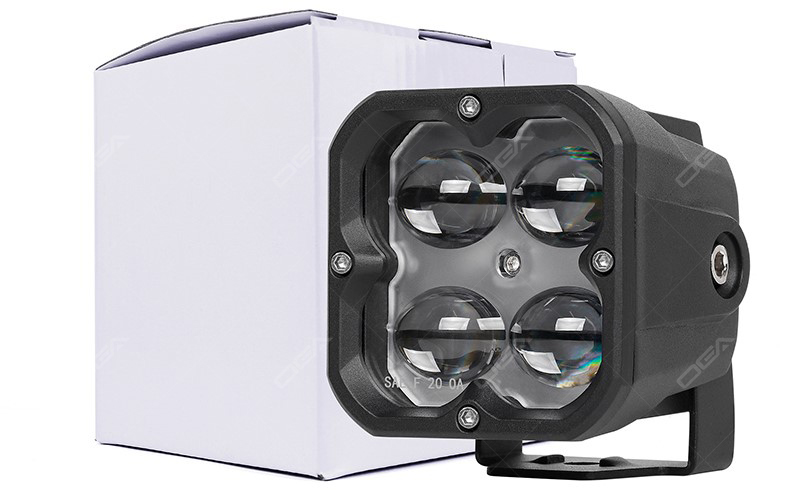 Versatile Mounting Options
Refit your factory fog lights with our 3012 series extremely wide-angle fog light pods with our custom-made brackets! Featuring a much precise beam pattern than any other 3-inch LED fog light pods on the market, these LED light pods have been designed to reach their maximum potential. Compact dimensions with the slim front frame are carefully designed by OGA automotive LED lighting, with versatile mounting options, our street legal SAE/DOT 3 inches fog light pods can be easily mounted in tons of positions on or in your vehicles.
1) Stock Fog Light Location Mounts
How am I supposed to mount your round SAE fog lights on my vehicle? This is one of the most asked questions our sales team receives every day. Our fog light pods with the specifically made auxiliary fog light brackets can be a direct replacement for the stock fog lights. We have designed, developed and produced specific brackets that can fit vehicles like Jeep Wrangler JK, JL, Honda, Mazda, Nissan, Opel, Renault, Suzuki and Toyota. We are also developing other fog light brackets that fit Ford, Ram and Subaru, etc. Please check out our auxiliary fog light brackets category, and if you cannot find what you need, provide a specific year, make and model of that vehicle, OGA team is happy to offer useful information about the fog light kits and brackets.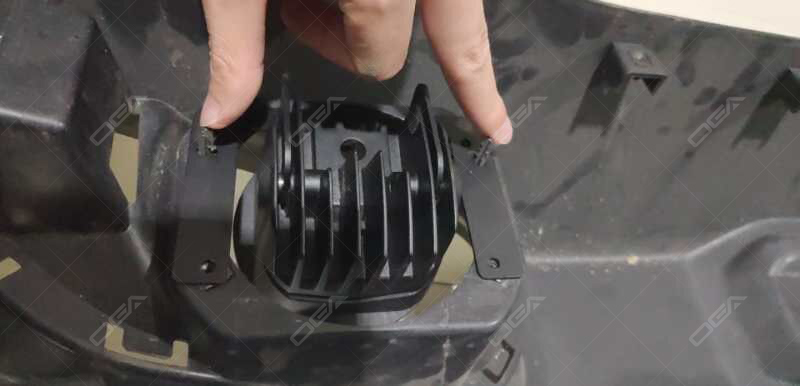 2) Bumper Flush Mounts
Command the bad weather with OGA LED set of three-inch flush-mount square OSRAM LED fog lights. These powerful yet small LEDs feature an extended housing to sit flush with your bumper, these fog light pods look like an OEM factory upgrade. You can install these lights on almost any bumper with adequate surface area. Before you begin installation verify that you have all the required parts and hardware before proceeding. You will also want to verify that you have all the proper tools before disassembling your vehicle. As you can imagine, a set of 3012 series three-inch flush mount OSRAM LED light can set your vehicle far from a pack, and give it an interesting look. Flush mount fog light pods available at round and square series, bulk purchase today!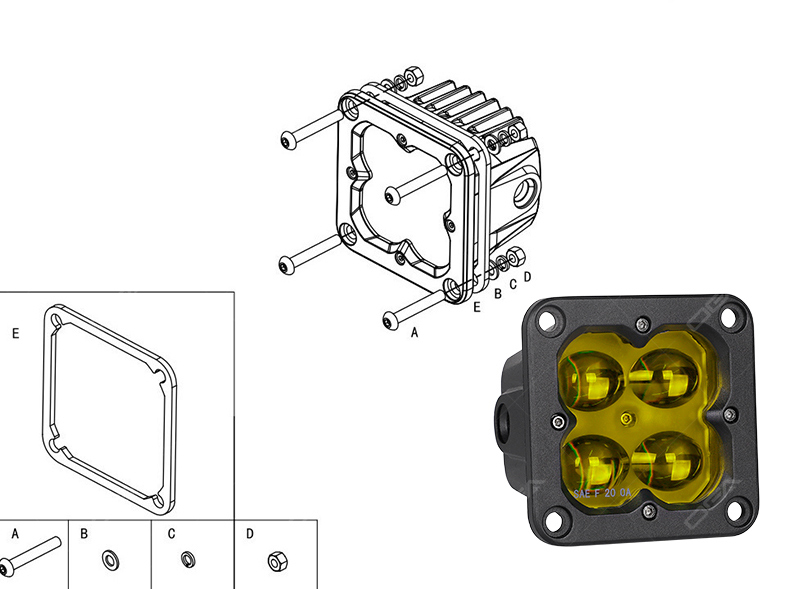 3) Clamp Mounting Brackets
Clamp mounts are a great choice to mount LED fog lights when it comes to off-roading and vehicles having a bull bar bumper. As you know, OGA LED is a premier manufacturer of automotive LED lights and accessories. We are here today at ogaled.com, the premier manufacturer themselves to show you our new X-clamp mounting system. The new OGA LED x-clamp is an innovative new product that can be used to mount lights and other accessories to round tubing from two to three inches. The new OGA LED x-clamp system is not just for Jeeps, it can be used on any trucks, SUVs and ATVs that having round tubing from two to three inches. This product comes in a black powder-coated finish that is made out of aluminum. When you receive your x-clamps, you get the X clamp, the bracket to mount, your light hardware packet for installation, as well as the instruction sheet. You will see the X-clamp is adjustable and we have provided the adjustability with an Allen wrench, and these screws on the inside to adjust from two to three inches outside diameter tubing so that you can customize the way that you want it to fit. For more information and to bulk purchase your X clamp system, go to ogaled.com, you will find that we have other types of clamp mounting brackets as well, suitable for a wide range of sizes of round tubes.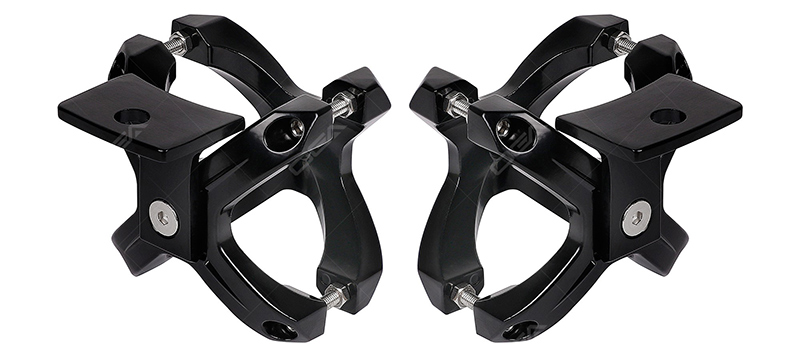 4) License Plate Mounts
If you want to install auxiliary lighting in the front of your vehicle without doing any permanent modifications, the license plate light mounting bracket is going to be a fantastic little product. As you can see, it just screws in behind your license plate using your existing screws, and then from there, you can mount whatever lights that are appropriate for your application on top of the bracket using the holes, and route the wires however you see fit for your vehicle. Now there are a few things to talk about with this license plate mount. It is a big heavy chunk of metal, the keyword is heavy, because it is a solid chunk of metal. It will has a tendency on plastic bumpers, in some cases to wobble, because plastic bumpers are not as secure as like metal bumpers. But in some cases, if the license plate frame is bolted in, for some plastic bumpers, it is actually okay. But we just want you to know that, if you do not have a very sturdy four-point setup, metal setup is not exactly a must, because there are four spots where you need to screw this in the top two and the bottom two. If you can't do that, this is not a product that is going to stay steady and hold itself in place properly, because of the weights. Now that being said, let's talk about the quality, this mount is of very good thickness and offering a lot of options for different types of light mounts, it is perfect for a pair of LED fog pod lights right up here. Honestly, for just being a simple chunk of metal, it is a fantastic idea and it is executed very well, so long as you understand the application is being used for, and you understand that it is going to be heavy, and it needs to be mounted properly, it is just a chunk of metal that holds lights in place, and you are going to love the quality of this mount, because it is made of iron and got some sort of coating to help prevent rust, looks pretty good when it is mounted properly, it is very sturdy. Car owner do not need to compromise on lighting performance just because not having a large space to mount the lights. If people are just looking for a setup for LED fog pod lights, this is actually a pretty good idea. So that is pretty much it, there is not really much else to go over on this license plate mounting bracket, is self-explanatory. You just undo the screws for your license plate then put your license place on top of this and screw it over, it's not rocket science. But that's it, guys, to find out more about auxiliary light mounting options, simply head to ogaled.com.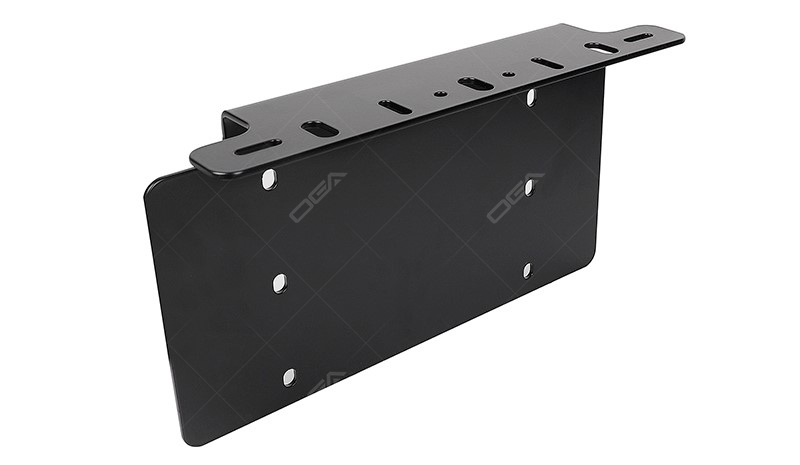 Hope you like this article, and do not forget to send us some inquiries, anything at all, check out our blog, we got plenty of them, and as always, we will see you next time, drive safe.